Space Foundation News
---
Space Foundation's 2010 Swigert Award Winner Honored by Popular Mechanics
Written by: developer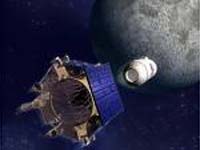 COLORADO SPRINGS, Colo. (Oct. 14, 2010) -- NASA's Lunar CRater Observation and Sensing Satellite (LCROSS) mission, which was honored earlier this year by the Space Foundation with the John L. "Jack" Swigert, Jr., Award for Space Exploration, has won Popular Mechanics' 2010 Breakthrough Award for innovation in science and technology.
The Swigert Award is given annually to an individual or organization for extraordinary accomplishments in the field of space exploration. The LCROSS team was honored last April during the Space Foundation's National Space Symposium opening ceremony. To find out how to nominate an individual or team for the Swigert Award, click here.
The Popular Mechanic Breakthrough Awards recognize innovators and products poised to change the world in fields such as technology, medicine, aviation and environmental engineering. Honorees were celebrated at a ceremony Oct. 5 in New York City.
LCROSS was launched with the Lunar Reconnaissance Orbiter (LRO) on June 18, 2009. A team at Northrop Grumman built the LCROSS spacecraft, which was outfitted with commercial off-the-shelf instruments adapted for spaceflight at NASA's Ames Research Center in Moffett Field, Calif. NASA crashed the upper stage of the rocket that lofted LCROSS and LRO into lunar orbit into a permanently shadowed crater near the south pole of the Moon in order to study the dust kicked up by the impact. In November 2009, NASA announced that LCROSS had detected water in the dust plume in concentrations comparable to those of the Sahara Desert. The LCROSS team successfully completed the mission on time and under its $79 million budget.
For more information about the LCROSS mission's Breakthrough Award, click here.
The Space Foundation's Swigert Award honors astronaut Jack Swigert, a Colorado native who served with Jim Lovell and Fred Haise on the legendary Apollo 13 lunar mission, which was aborted en route to the Moon after the perilous rupture of an oxygen tank.
The Space Foundation, founded in 1983 in part to honor Swigert's memory, created the Swigert Award in 2004 in tribute to his lasting legacy of space exploration. Nominations are currently being accepted for the 2011 award, which will be presented April 11 at the 27th National Space Symposium at The Broadmoor Hotel in Colorado Springs, Colo.
---
Posted in Space Foundation News