Education
---
Smith Inspires Students
Written by: developer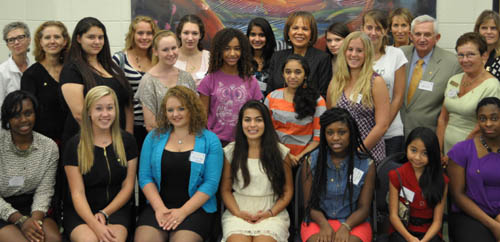 The Space Foundation, Charles County (Md.) Public Schools (CCPS) and CCPS Superintendent James R. Richmond hosted an Educational Exchange Luncheon today at North Point High School in Charles County with the goal of inspiring the middle and high school girls attending to pursue careers in STEM fields – science, technology, engineering and mathematics.
The featured luncheon speaker was Space Foundation board member the Honorable Patricia Grace Smith, former assistant administrator, Federal Aviation Administration, and principal, Patti Grace Smith Consulting. Smith is also a member of the advisory board of the National Air and Space Museum.
Smith's message emphasized the importance of STEM education and the need for the United States to develop a well-educated workforce.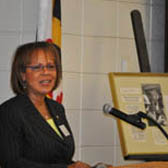 Also representing the Space Foundation was Board Chairman Martin C. Faga, former president and CEO, The MITRE Corporation, and former director of the National Reconnaissance Office. The 85 people in attendance included:
CCPS Administration, staff, board of education, teachers and female students from various schools throughout the district
Charles County community leaders
Space Foundation staff and board members
The Space Foundation and CCPS have a long-time education-based partnership to strengthen STEM skills in the district. In 2012, Superintendent Richmond was awarded the Alan Shepard Technology in Education Award by the Space Foundation, NASA and the Astronauts Memorial Foundation (AMF).
This article is part of Space Watch: August 2012 (Volume: 11, Issue: 8).
---
Posted in Education