Education
---
Mars Robotics Laboratory is Now Open!
Written by: developer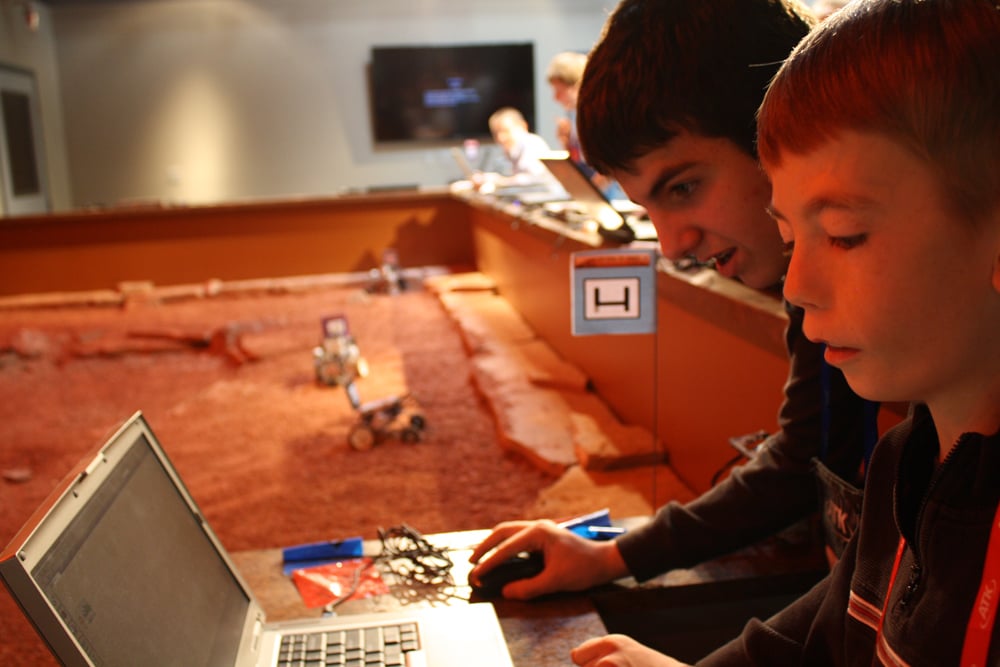 The Space Foundation has opened its Mars Robotics Laboratory, located in the Discovery Center at its world headquarters in Colorado Springs, Colo. The laboratory's simulated Martian terrain offers students an opportunity to program robotic rovers to complete mission objectives individually or in teams.
Missions can be run that support any part of school curriculum, including science, technology, math, language arts, physical education and social studies, or the Space Foundation can custom-design a mission for students.
The Mars Lab uses LEGO® NXT equipment and MINDSTORMS® software to simulate lifelike Mars rover missions to:
Teach communication and collaboration skills
Hone creative problem-solving skills
Increase team engagement
Deliver a hands-on component to lessons about Mars and space exploration
Develop interest and skills in robotics
The standards-based courses, which are taught by accredited Space Foundation instructors, are custom-designed to support classroom curriculum. The Space Foundation education team works with teachers before and after the Mars Robotics Laboratory session to ensure that each class supports learning objectives in the classroom.
Robotics Exploration Mission
Appropriate for grades 3-adult
Students engaging in this mission will work in teams to complete mission objectives programming and operating LEGO NXT robots on the world's largest education-purposed simulated Martian terrain. These missions will improve students' teamwork, communication and problem solving skills as well as enhance math, technology and engineering proficiency.
Follow the Water! Geology Mission
Meets 6th grade standards for earth science
Appropriate for grades 5-12
The objective of this mission is to, "Follow the Water!" Exploring the surface of Mars with LEGO NXT robots, teams of students will collect rock and mineral samples on the surface of Mars. Using various lab techniques, students will identify igneous, sedimentary and metamorphic samples. Once identified, students will conclude that sedimentary rocks signal that water once flowed on the surface of Mars and that it may be there still.
Life on Mars? Life Science Mission – COMING SOON!
Meets 7th grade standards for life science
Appropriate for grades 5-12
Humans can do more exploration in just a couple of days than robots can explore in a year. For that reason, in this exhilarating mission we put humans on "Mars." Building upon the geology mission, students continue to explore the surface of Mars with LEGO NXT robots. However, this time, we put select students in space suits to explore the surface in tandem with the robots. Medical officers test and monitor the vital signs of the astronauts on the surface as man and machine search for life on the red planet.
Red Rover, Red Rover… Physical Science Mission – COMING SOON!
Meets 8th grade standards for physical science
Appropriate for grades 5-12
In this mission to Mars, students will encounter various problem-solving scenarios with which they must utilize their knowledge of Newton's Laws of Motion to accomplish their mission objectives. The study of the transfer of energy will be explored so students understand how the robots use physical laws to explore Mars. Exploration of the surface of Mars may also reveal possible signs of life on the red planet. Students will need to determine if what they are observing is a physical or chemical change to determine if they have found life.
For more information, please contact us at [email protected]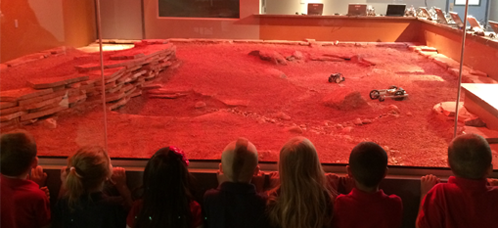 This article is part of Space Watch: March 2014 (Volume: 13, Issue: 3).
---
Posted in Education