Education
---
GlobalCasts Provide STEM Lessons Through Technology
Written by: developer
The Space Foundation presents its Audience With an Astronaut™ program so that students may learn first-hand about exploring space and to inspire their interest in STEM subjects — science, technology, engineering and mathematics.
During World Space Week 2014, Oct. 4 – 10, the Space Foundation conducted GlobalCasts with schools across the United States and in India using its unique teaching tool Science On a Sphere® to illustrate Audience With an Astronaut™ and other presentations. The Sphere was developed by the National Oceanic and Atmospheric Administration (NOAA) and uses special software, satellite imagery and four projectors to render full-motion views of the Earth, sun, moons and planets in space.
Dr. Leroy Chiao was the astronaut featured in the Space Foundation's World Space Week GlobalCasts. Chiao, a former Space Shuttle astronaut and resident of the International Space Station, is now the Space Foundation's special advisor — human spaceflight.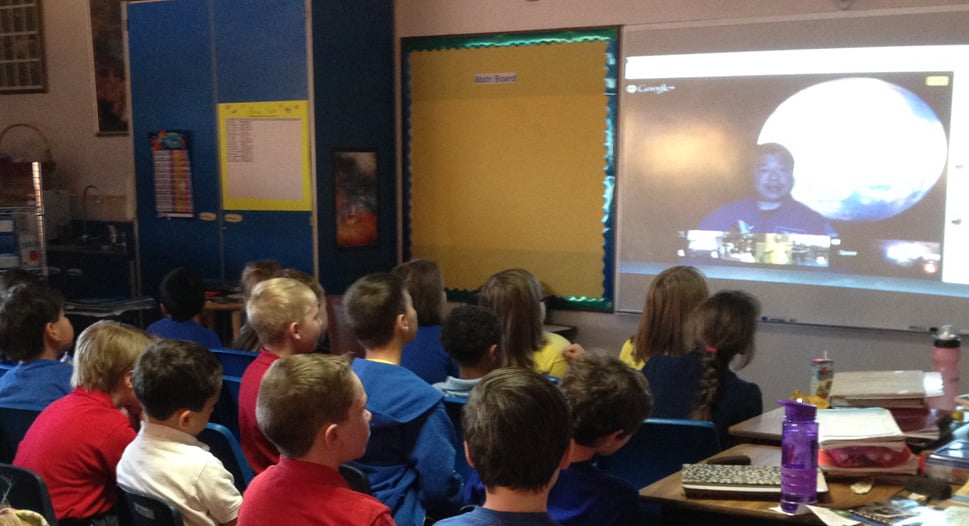 Space Foundation Teacher Liaison Marci Ward was one of the educators selected for participation in the GlobalCasts. Ward is a 3rd grade teacher at Immaculate Conception School in Fairbanks, Alaska, and sponsors the Space & Science Club. A photo of students at her school watching a World Space Week GlobalCast with Dr. Chiao is shown at right. The students were able to interact with Dr. Chiao and ask questions.
Tracy Matthews was also one of the educators chosen to participate in the World Space Week GlobalCasts conducted by the Space Foundation. Matthews is a science teacher at Falcon Middle School in Colorado Springs, Colo. After the presentation, she sent a note to the Space Foundation expressing her enthusiasm for the program:
My 6th grade class and I would like to express our gratitude for today's conference with Dr. Chiao. It was exciting, educational, and especially inspirational for all involved.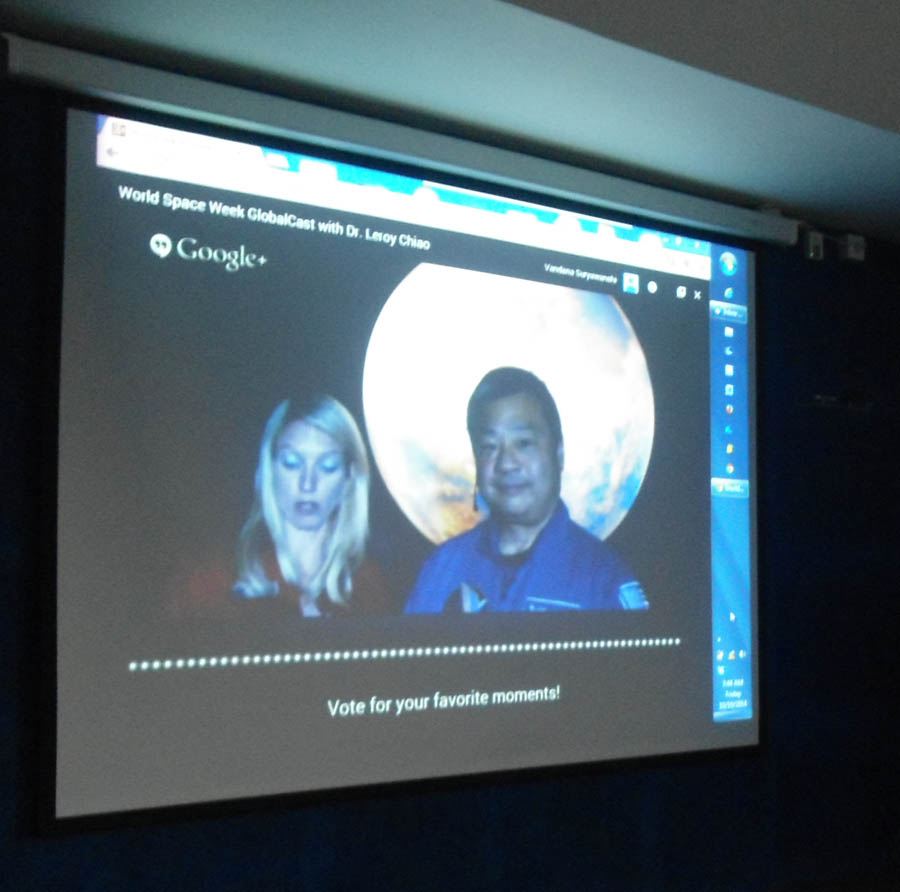 Your organization continues to support and inspire both teachers and kids of all age levels and abilities. Because of you, your staff, and your organization you've enabled teachers to make science fun and to bring real-world science applications and experiences into the classroom.
We are especially grateful to Dr. Chiao for taking the time out of his schedule to meet with our students. The students walked away from the video chat with huge smiles and a greater appreciation for science. Inspiration is an incredible tool! I wonder how many future astronauts were "born" from this opportunity.
As always, I am extremely grateful to be associated with you and the rest of the team at the Space Foundation. Thank you for your support! Below are a couple of statements from student participants in today's conference.
"Thank you for letting us video-chat with you! I really enjoyed asking questions and learning about the different things that our class asked! I was really excited and now I want to be an astronaut…."
Sarah S., 6th Grade, Falcon Middle School, Colorado Springs
"At first I thought that half of my questions wouldn't get answered, but I was wrong. I want to become an astronaut so I was glad that I could be the first to go to Mars. You are the best, but first, astronaut I've met."
Taylor K. 6th Grade, Falcon Middle School, Colorado Springs
Watch World Space Week GlobalCasts from the Space Foundation World Headquarters featuring Dr. Chiao on YouTube here.
This article is part of Space Watch: November 2014 (Volume: 13, Issue: 11).
---
Posted in Education