Space Foundation Press Releases
---
Space Foundation Comments on Death of Leonard Nimoy
Written by: developer
COLORADO SPRINGS, Colo. (Feb. 27, 2015) - The Space Foundation mourns the death of Leonard Nimoy, who inspired people around the world to explore the wonders of science, space and technology through his television and motion picture portrayals of Star Trek's Mr. Spock.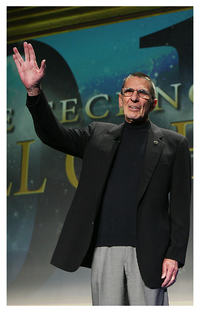 "Leonard Nimoy created a positive role model who inspired untold numbers of viewers to learn more about the universe. Many of those people are ardent space supporters and industry leaders today," said Space Foundation Chief Executive Officer Elliot Pulham.
Nimoy was the 2010 recipient of the Space Foundation's Douglas S. Morrow Public Outreach Award, given annually at the Space Symposium to an individual or organization that has made significant contributions to public awareness of space programs. The award's namesake was an Academy Award winning writer and producer, space advocate, and former director of the Space Foundation.
About Nimoy
Nimoy enjoyed a long acting and directing career since gaining worldwide fame on Star Trek during the 1960s. From the original series, through the original motion pictures, to the 2009 blockbuster film Star Trek, he brought dignity and intelligence to one of the most revered characters in science fiction.
A native of Boston, Nimoy pursued his acting career after his feature film debut in 1951. He debuted as the half-human/half-Vulcan Spock in 1966, creating a character to which he contributed many of his own elements, including the Vulcan Nerve Pinch and the Vulcan salute. One of TV's most successful series, Star Trek garnered Nimoy three Emmy nominations during its three-year run. After the series ended in 1969, Nimoy spent two years playing the role of "The Great Paris," a master of disguise on Mission Impossible.
Nimoy's theater credits include Fiddler on the Roof, Oliver, Camelot, and Equus. He has hosted the well-known TV series In Search of... and Ancient Mysteries, written several volumes of poetry, guest-starred on multiple television shows, and appeared in made-for-television films.
Nimoy reprised his role as Mr. Spock in the box-office and critical hit Star Trek: The Motion Picture in 1979. He returned for 1982's sequel, Star Trek: The Wrath of Khan, and directed the third and fourth installments in the series: 1984's Star Trek III: The Search for Spock and 1986's Star Trek IV: The Voyage Home.
About the Space Foundation
Founded in 1983, the Space Foundation is the foremost advocate for all sectors of space, and is a global, nonprofit leader in space awareness activities, educational programs and major industry events, including the annual Space Symposium, in support of its mission "to advance space-related endeavors to inspire, enable and propel humanity." Space Foundation World Headquarters in Colorado Springs, Colo., USA, has a public Discovery Center, including El Pomar Space Gallery, Northrop Grumman Science Center featuring Science On a Sphere® and the Lockheed Martin Space Education Center. The Space Foundation has a field office in Houston and conducts government affairs from its Washington, D.C., office. It annually publishes The Space Report: The Authoritative Guide to Global Space Activity, and through its Space CertificationTM and Space Technology Hall of Fame® programs, recognizes space-based innovations that have been adapted to improve life on Earth. Visit www.SpaceFoundation.org, follow us on Facebook, Instagram, LinkedIn, Pinterest, Twitter and YouTube, and read our e-newsletter Space Watch.
Pictured: Leornard Nimoy at the Space Foundation's Space Symposium in 2010, speaking at the Space Technology Hall of Fame Dinner.
---
Posted in Space Foundation Press Releases