Public Policy and Government Affairs
---
Biweekly Washington, D.C., Update for the Week Ending June 12, 2020
Written by: Hanh Le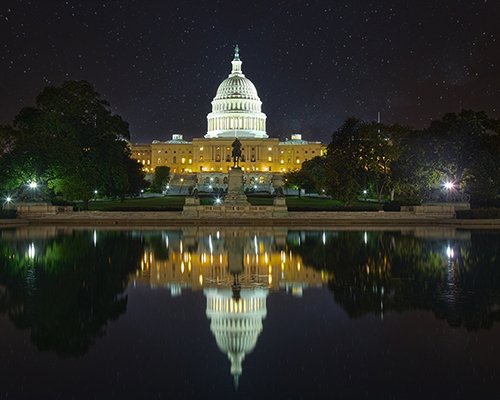 In recent weeks, Washington, D.C., has been the setting of numerous protests against racial discrimination and police brutality. In Congress, House Democrats are working to secure supporters for a new police reform bill. Much of the bill was drafted by the Congressional Black Caucus, with Rep. G.K. Butterfield (D-NC) as the lead whip, and the House will vote on the bill on June 25. In the Senate, various Republicans and Democrats are crafting their own legislation
examining police reform and racial discrimination. These issues have drawn significant attention and will be debated much of this summer, and throughout the upcoming fall election season.
We here at the Space Foundation hope that these political debates and public protests are an opportunity for everyone to better listen, understand, and work towards becoming a more inclusive and just society. As an organization, we are committed to inspiring, educating, connecting, and advocating on behalf of the global space community, and we are truly dedicated to ensuring that there is "space for everyone."
Space Foundation Event Highlights
Space Policy Pod: Episode 3 – Stephen Kitay
This new podcast series, presented by the Space Foundation along with the American Institute of Aeronautics and Astronautics (AIAA), the MITRE Corporation, and the U.S. Chamber of Commerce, examines events and ideas pertaining to the space industry.
This third episode features Stephen Kitay, Deputy Assistant Secretary of Defense for Space Policy.
Kitay, a member of the Senior Executive Service (SES), is responsible for establishing policy and guidance to assure U.S. and allied warfighters the benefits of space capabilities, and helping to guide strategy for addressing space-related issues. He also leads SES activities in international space cooperation.
Each episode of the Space Policy Pod will invite leaders in the space industry to have a candid conversation and share their perspectives on current events in the space policy landscape.
Space Industry Updates
 Space Policy Updates
Space Legislation Updates
The Senate Armed Services Committee voted 25–2 to advance the FY2021 National Defense Authorization Act (NDAA) to the Senate floor, authorizing $740.5 billion for national defense with Overseas Contingency Operations (OCO) spending. The NDAA summary includes items for the U.S. Space Force and space programs. The Senate NDAA directs the establishment of a Space Force reserve component, but delays establishment of a Space National Guard until a study on the issue is completed.
Additional Space Foundation Resources
The Space Report Quarter 1 – 2020 provides significant insights on workforce development, spacecraft activities, statistics, and analyses covering satellites for communication, Earth observation, and navigation.
The latest Space4U Podcast episode features Peter Freer, founder of Unique Logic + Technology and Freer Logic, LLC, as well as Rita McKinnish, an educator who has used the Play Attention software in her classrooms.
Online learning, lesson plans, and video lessons for students grades K–12 are available at the Discovery Center website.
Further Reading
The Space Review | Be careful what you wish for
By Jeff Foust
For decades, space advocates have wanted a president who makes space a priority.
The article discusses how the Trump administration has put an emphasis on space policy, but how it has also has taken credit for the accomplishments of past administrations, and the risks this may pose to future space policy.
Authority Magazine | Space Foundation CEO: "Why the space community is positioned to lead the economic recovery"
By Dr. Ely Weinschneider
Tom Zelibor, Space Foundation CEO, shares how the space community can help transition careers, operations, and livelihoods in a positive and proactive way.
Space Trivia
In June 1987, Mae Jemison was selected by NASA. Aboard mission STS-47 In 1998, she became the first African American woman in space, logging more than 190 hours as a science mission specialist investigating bone cell research. (Source: NASA)
---
Posted in Public Policy and Government Affairs