Public Policy and Government Affairs
---
Biweekly Washington, D.C., Update for the Week Ending July 24, 2020
Written by: Hanh Le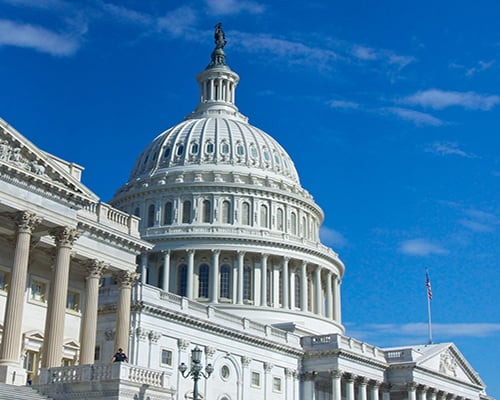 For the international space community, this summer, and especially this week have been heavily focused on Mars. The United Arab Emirates (UAE) launched their historic Hope mission earlier this week from Japan, followed by China's Tianwen-1 launch. Next week will be NASA's highly anticipated launch of the Perseverance rover with the mission having cleared its Flight Readiness Review this week, and the launch on track for July 30.
In Congress, Senate GOP leaders and White House officials were unable to reach an agreement on the next round for a stimulus package. Earlier in the week, the House passed the National Defense Authorization Act (NDAA) for FY2021 by a vote of 295–125, and the Senate passed its version of the NDAA on Thursday with an 86–14 vote.
Space Foundation Event Highlights
Space Foundation Presents: "Roving the Red Planet" Webinar in partnership with NASA
In the second episode of the new webinar series, "Space Foundation Presents," Space Foundation hosted an exclusive conversation with: the Honorable Jim Bridenstine, NASA Administrator;  Thomas Zurbuchen, NASA Associate Administrator for the Science Mission Directorate; Dr. Michael M. Watkins, Director of NASA JPL; and MiMi Aung, Project Manager at NASA JPL.
In his opening comments, Space Foundation CEO Tom Zelibor noted that the UAE, China, and the U.S. have all recently launched or plan to launch Mars probes. "While this is a source of great national pride for each of these nations, globally we can celebrate what we can learn and achieve when we invest in people, curiosity, and the pursuit of bold, challenging frontiers," he said. "At no other time in our history have we seen anything like what is unfolding with these three unique missions to Mars. Each of them is a science and engineering marvel."
To watch the webinar, please visit the Space Foundation site.
Space Policy Pod: Episode 6 — Shawn Barnes
Our latest episode features Shawn Barnes, a member of the Senior Executive Service, Office of the Assistant Secretary for Space Acquisition and Integration, U.S. Air Force.
Barnes is responsible for carrying out Air Force space missions and integrating space policy, guidance, coordination and synchronization of space-related activities, and issue resolution for the Department of the Air Force.
In this podcast, Mr. Barnes discusses COVID-19 impacts on the defense industrial base, interaction between Space Force and other services, new space architectures, and space acquisition reforms.
 Space Industry Updates
The UAE successfully launched the Hope mission to Mars from Tanegashima Space Centre in Japan. (CNBC, July 20)
Aerospace Corp. is opening a new facility in Colorado Springs to focus on classified space technology. (SpaceNews, July 22)
China launched the Tianwen-1 spacecraft to Mars carrying seven scientific payloads. (CBS News, July 23)
 Space Policy Updates
Additional Space Foundation Resources
The latest Space4U Podcast episode features Danielle Dallas Roosa, the Cofounder & CCO of "Back to Space," an organization that's inspiring more interest in space, science, and technology among young people. Danielle is also the granddaughter of Apollo 14 astronaut Stuart Roosa.
Online learning, lesson plans, and video lessons for students grades K–12 are available at the Discovery Center website.
Space Legislation Updates
House amendments to the FY2021 National Defense Authorization Act (NDAA)
The Space Development Agency is to be provided with special hiring authority in science and engineering to attract experts.
A report is to be delivered on the effects of the pandemic on the space industrial base.
The Space Force is to use the same system and rank structure as the Navy.
A report is to be delivered on the "processes and procedures for identifying and securing frequency licenses for national security space ground assets."
Senate amendments to the FY2021 National Defense Authorization Act (NDAA)
An amendment was made to remove a section related to the acquisition strategy for the National Security Space Launch Phase 2 launch services procurement and the "distribution
of launches."
According to SpaceNews, the Air Force had asked to change the wording to avoid lawsuits or protests from launch providers that were not awarded Phase 2 contracts.
Further Reading
Time – America Really Does Have a Space Force. We Went Inside to See What It Does.
The article discusses foreign threats to space-based systems and orbital warfare as the prime driver behind the creation of Space Force, how perception of space as a peaceful domain has changed, and challenges in standing up the Space Force.
Space Trivia
Twenty-one years ago, on July 23, 1999, NASA launched the Space Shuttle Columbia on its 26th flight (STS-93), to deliver the Chandra X-ray Observatory to low Earth orbit. It was also on this mission that Eileen Collins became the first woman to command a space shuttle. (Source: NASA)
---
Posted in Public Policy and Government Affairs