Public Policy and Government Affairs
---
Biweekly Washington, D.C., Update for the Week Ending August 7, 2020
Written by: Hanh Le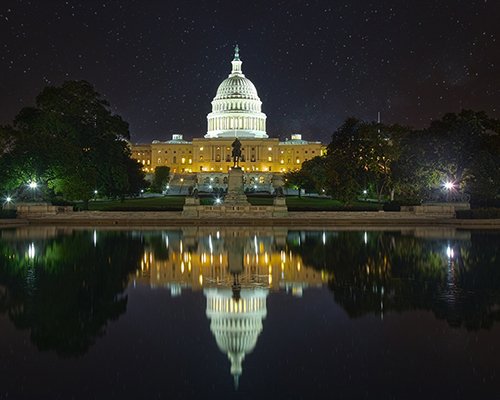 Earlier this week, the space community tuned in to see the Crew Dragon splashdown in Pensacola, Fla., and welcomed astronauts Bob Behnken and Doug Hurley home from their two-month stay aboard the International Space Station (ISS). Their safe return officially categorized the joint NASA/SpaceX Demo-2 mission as a success and heralded the return of regular crewed flights to the ISS from U.S. soil. In Washington, D.C., Congress negotiated the next coronavirus stimulus package,
although it remains unclear whether an agreement
will be reached today.
Space Foundation Event Highlights
Second-Quarter Issue of The Space Report (TSR) Released
The new edition of TSR reports that the global space economy in 2019 grew by more than $9 billion over the previous year, reaching $423.8 billion.
It also documents that in the past decade, combined government spending and commercial revenue has grown 73%, from $245.06 billion in 2010, to $423.8 billion in 2019.
To read more Q2 findings, please visit The Space Report page.
Space Policy Pod: Episode 7 – Tommaso Sgobba
Our latest episode features Tommaso Sgobba, Executive Director and Board Secretary of the International Association for the Advancement of Space Safety (IAASS).
Until 2013, Mr. Sgobba was head of the Independent Safety Office at the European Space Agency (ESA) overseeing human-rated systems, spacecraft reentries, space debris, use of nuclear power sources, and planetary protection. He joined ESA in 1989, after 13 years in the aeronautical industry.
In this episode, Mr. Sgobba discusses international space governance, advancing space safety, a space version of the International Civil Aviation Organization, and emerging leaders in space safety.
In Memoriam
The space community mourns the loss of Mike Freilich, who led NASA's earth science program for more than a decade. An oceanographer, Freilich spent most of his career at JPL and Oregon State University but joined NASA as head of the Earth Science Division in 2006, retiring in February 2019. His legacy is not only the earth science satellite programs he nurtured at NASA, but his passionate advocacy for interagency and international cooperation. (SpacePolicyOnline, Aug. 5)
Space Industry Updates
SpaceX's Starship SN5 vehicle performed a "hop" flight. (SpaceX, Aug. 4)
Rocket Lab announced that they have increased the payload lift capacity of their Electron launch vehicle to 660 lbs. (Rocket Lab USA, Aug. 4)
Satellite firm SES has selected SpaceX and ULA to each launch two geostationary satellites designed to replace C band capacity. (SpaceNews, Aug. 5)
Space Policy Updates
Additional Space Foundation Resources
The latest Space4U Podcast episode features Jason Held, founder and CEO of mission control operations software and services company Saber Astronautics.
Online learning, lesson plans, and video lessons for students grades K–12 are available at the Discovery Center website.
Further Reading
The Space Review | Propelling Perseverance: The legacy of Viking is helping NASA get to Mars by Joe Cassady
Eight years ago, the Curiosity rover landed on Mars. This article discusses the development of the MR-80 engines for the Viking mission, and how they were "resurrected, tested, and proven capable" to meet the requirements of the Curiosity mission.
Space Trivia
In August 1909, 101 years ago, the Army purchased its first airplane "The Wright Flyer" from the Wright brothers for $30,000. (Source: NASA, National Archives)
---
Posted in Public Policy and Government Affairs