Public Policy and Government Affairs
---
Biweekly Washington, D.C., Update for the Week Ending October 16, 2020
Written by: Hanh Le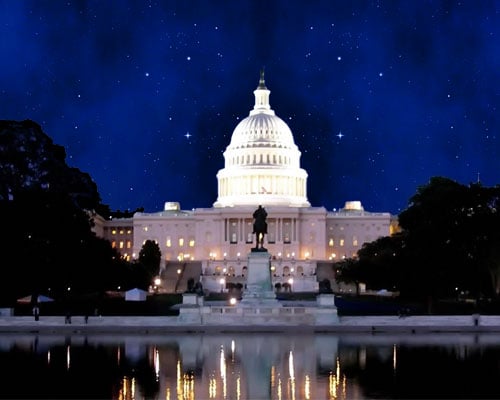 It was an exciting week for the space community. The International Astronautical Congress was held virtually and achieved many important milestones for space policy, especially the signing of the Artemis Accords. In Washington, D.C., the Senate Judiciary Committee held confirmation hearings for Supreme Court nominee Amy Coney Barrett.
Sign Up for Space Symposium 365
Space Foundation has launched Space Symposium 365, a year-round, digital platform for learning, collaborating, and conducting business within the global space community.
The series will: showcase exclusive interviews, panels, discussions, and roundtables with newsmakers, investors, experts, and other space professionals; bridge conversations between Civil, Commercial, Military, and International Space; and, examine emerging priorities, missions, and policies driving the global space economy.
Programming kicks off this month with an exciting lineup:

Former NASA Flight Director Gene Kranz award presentation — Oct. 26, 2 p.m. ET
NASA Administrator Jim Bridenstine — Oct. 27, 11 a.m. ET
USAF Sec. Barbara M. Barrett and Space Force CSO Gen. John "Jay" Raymond
— Oct. 28, 1 p.m. ET
National Reconnaissance Office Director Dr. Christopher Scolese — Oct. 28, 3:30 p.m. ET

Register here to learn more, and to follow all the key events and discussions with industry professionals, 365 days a year.
Space Foundation Highlights
The Space Report Quarter 3 finds Commercial Space Revenue Climbed to $336.89 billion in 2019
The Space Report 2020 Q3 includes an analysis of 2019 commercial space revenue, and the annual data shows gains over the prior year, and strong 10-year performance.
Commercial space revenue, which represents about 80% of the global space economy, climbed 6.3% compared to 2018, growing to $336.89 billion. Over the last 10 years, the increase was 77.8% overall.
Additionally, this edition of the Space Report covers human spaceflight programs, commercial space products, and commercial space infrastructure.
To read more findings, please visit thespacereport.org — the Q3 Takeaways document is available for free download.
Other Highlights 
Space Policy Pod: Episode 12 – Alexander MacDonald
Our latest episode features Alexander MacDonald, Chief Economist, Office of the Administrator, NASA.
In his current role, Dr. MacDonald also serves as Program Executive of the International Space Station National Lab. He was previously the Senior Economic Advisor in the Office of the Administrator and was the founding Program Executive of NASA's Emerging Space Office.
In this episode of the Space Policy Pod, Dr. MacDonald discusses the use of the International Space Station as a platform for research and development, low Earth orbit commercialization, and international partnerships.
Space Industry Updates
Space Policy Updates
Additional Space Foundation Resources
The latest Space4U Podcast episode features Steve Howard, project lead for Spaceport Camden which is currently being developed in Georgia.
The Space Report Quarter 3 is available here.
Online learning, lesson plans, and video lessons for students grades K–12 are available at the Discovery Center website.
Further Reading
SpaceNews Op-Ed | Seeking small victories in space policy
By Jeff Foust
The op-ed discusses challenges such as passing the FY2021 appropriations bill, and Congress' continuing resolution (CR) and proposal for the Office of Space Commerce to handle space traffic management responsibilities. But small victories can be achieved, as demonstrated by the recently passed space weather (PROSWIFT) bill.
Space Trivia
Thirteen years ago, on October 23, 2007, STS-120 was launched to deliver Node 2 ("Harmony") which is essentially the hub of all the scientific laboratory sections of the International Space Station. In an interview with NASA, mission commander Pam Melroy noted the term "harmony" is, "reflected in how the space station actually operates." (Source: NASA)
---
Posted in Public Policy and Government Affairs