Public Policy and Government Affairs
---
Biweekly Washington, D.C., Update for the Week Ending October 30, 2020
Written by: Hanh Le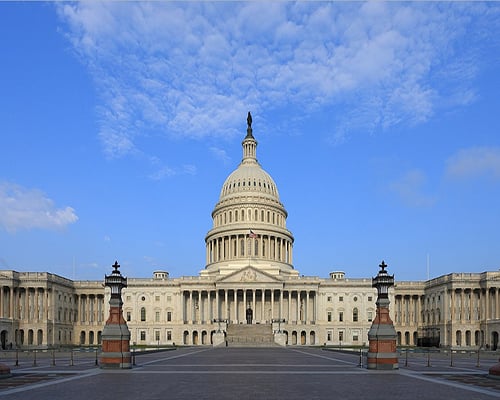 The Senate took recess this week following the confirmation of Supreme Court Justice Amy Coney Barrett, as Washington and the country await the results of the 2020 elections next week. Meanwhile, it was reported that NASA's Perseverance Mars rover had made it to the halfway point in its journey to the Red Planet, and preparations were taking place to celebrate the 20th anniversary of humans continuously living and working in space aboard the International
Space Station.
Sign Up for Space Symposium 365
Space Foundation has launched Space Symposium 365, a year-round digital platform for learning, collaborating, and conducting business within the global space community.
The series will showcase exclusive interviews, panels, discussions, and roundtables with newsmakers, investors, experts, and other space professionals; bridge conversations between civil, commercial, military, and international space; and, examine emerging priorities, missions, and policies driving the global space economy.
Videos of interviews that took place earlier this week with NASA Administrator Bridenstine, Space Force CSO Gen. "Jay" Raymond and USAF Sec. Barbara Barrett, as well as NRO Director Scolese are available to view on demand for Space Symposium 365 subscribers.
More speakers to come:
– Panel conversation with the International Space Station's "Expedition One" crew — Nov. 2, at 2 p.m. ET
– James Dickinson, Commander, United States Space Command — Nov. 5, at 11 a.m. ET
Register here to learn more, and to follow all the key events and discussions with industry professionals, 365 days a year.
Space Foundation Highlights
The Space Report Quarter 3 finds Commercial Space Revenue Climbed to $336.89 billion in 2019
The Space Report 2020 Q3 includes an analysis of 2019 commercial space revenue, and the annual data shows gains over the prior year, and strong 10-year performance.
Commercial space revenue, which represents about 80% of the global space economy, climbed 6.3% compared to 2018, growing to $336.89 billion. Over the last 10 years, the increase was 77.8% overall.
Additionally, this edition of the Space Report covers human spaceflight programs, commercial space products, and commercial space infrastructure.
To read more findings, please visit thespacereport.org; the Q3 Takeaways document is available for free download.
Other Highlights
Space Policy Pod: Episode 13 – Kelvin Coleman
Our latest episode features Kelvin Coleman, the Federal Aviation Administration's (FAA) Deputy Associate Administrator for Commercial Space Transportation.
In his current role, Mr. Coleman is responsible for licensing commercial operators for space launch and reentry.
In this episode, Mr. Coleman discusses the recently announced final regulations on commercial space launch and reentry license requirements.
Space Industry Updates
Space Policy Updates
Additional Space Foundation Resources
The latest Space4U Podcast episode features Dr. Katharine Forth, who took the insights she gained from working with astronauts in microgravity to create the Zibrio SmartScale for balance.
The Space Report Quarter 3 is available here.
Online learning, lesson plans, and video lessons for students grades K–12 are available at the Discovery Center website.
Further Reading
The Space Review | Russia gears up for electronic warfare in space (part 1), by Bart Hendrickx
Russia is building up its capabilities to conduct electronic warfare (EW) against foreign satellites.
EW has taken on an increasingly prominent role for Russia's armed forces since their Electronic Warfare Troops were established in 2009.
The article outlines targets for Russian EW complexes, such as radar reconnaissance satellites, spoofing communications user terminals, and downlink jamming.
Space Trivia
Sixty-three years ago, on November 3, 1957, the Soviet Union launched "Laika," the first dog (and living creature) to go to space. (Source: BBC)
---
Posted in Public Policy and Government Affairs