Public Policy and Government Affairs
---
Biweekly Washington, D.C., Update for the Week Ending December 18, 2020
Written by: Hanh Le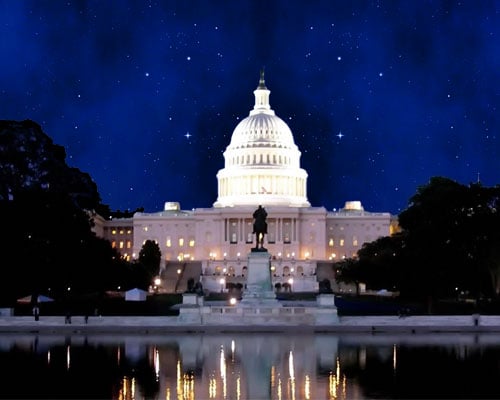 Last week, the National Space Council met for the last time of the year at the Kennedy Space Center. President Trump signed a continuing resolution to keep the government funded until December 18. The Senate passed the final version of the NDAA (H.R. 6395) despite the President's veto threat. This week, Congressional leaders have continued to negotiate a COVID-19 stimulus package, and the White House released Space Policy Directive-6 entitled the "National Strategy for Space Nuclear Power and Propulsion."
Sign Up for Space Symposium 365
Sign up for Space Symposium 365, a year-round digital platform for learning, collaborating, and conducting business within the global space community.
More speakers and panels to come:

Dec. 21, 2020 – 20 Years of Partnership: The International Space Station Partners
Jan. 2021 – New Generation Space Leaders Panel: Unmute Yourself
Feb. 2021 – Dr. Derek Tournear
Feb. 2021 ­– Panel: The Navy's Role in Space

Register here to learn more, and to follow all the key events and discussions with industry professionals, 365 days a year.
Space Industry Updates
Space Policy Updates
Wednesday, Dec. 9: Eighth National Space Council (NSC) Meeting Summary
At the NSC meeting, a new national space policy was announced.
The policy outlines direction to agencies to advance U.S. interests in space, with emphasis on four areas: commercial, exploration and science, national security, and international cooperation. The policy directs for coordination at the highest level; a strategy for sustainable exploration and development to encourage U.S. commercial partnerships.
The creation of a new National Space Intelligence Center was announced, as was the Space Force's designation as the newest member of the Intelligence Community.
The Department of Energy announced that it will soon publish a new space strategy on space technology.
The Department of Commerce also announced a memorandum of understanding with the Department of Defense on space situational awareness and sharing data to minimize collision risks.
Additional Space Foundation Resources
The latest Space4U Podcast episode features Sarah Noble – NASA program scientist for the 2022 Psyche mission to gather data and photos from a giant asteroid that was likely once a protoplanetary core.
The Space Report Quarter 3 is available here.
Online learning, lesson plans, and video lessons for students grades K–12 are available at the Discovery Center website.
Further Reading
The Space Review | Big bird, little bird: chasing Soviet anti-ballistic missile radars in the 1960s
By Dwayne A. Day
The article discusses the MABELI and TIVOLI satellites, as well as America's reaction to the Soviet anti-ballistic missile radar (ABR) program and intercontinental ballistic missile (ICBM) deterrence.
Space Trivia
Sixty-two years ago, on December 19, 1958, the Atlas Project Score satellite transmitted President Eisenhower's voice with a Christmas message. This was the first transmission and reception of a human voice from space. (Source: NASA)
Space Foundation is here to keep you up to date and informed on the latest developments in the space industry. As a nonprofit organization, our donors are what make this possible. If you find these updates valuable, please consider making a donation so we can continue providing informative content like this. As little as $5 or $10 can make a world of difference! For more information, and to donate, please visit www.spacefoundation.org/donate
---
Posted in Public Policy and Government Affairs