Public Policy and Government Affairs
---
Biweekly Washington, D.C., Update for the Week Ending April 9, 2021
Written by: Hanh Le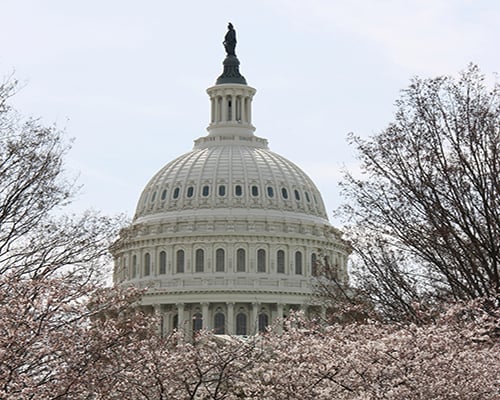 This week, the NASA Ingenuity Mars Helicopter was safely released from its protective housing beneath the Perseverance rover on the surface of the Red Planet, has survived harsh temperatures as low as -117ºF, and also snapped its first color photo in the leadup to its first flight, anticipated to be within the next few days. Meanwhile, the global space community prepared to celebrate Yuri's Night.
FY2022 Presidential Budget Request Released
The White House released President Biden's FY2022 budget request on Friday, accompanied by a press statement. The budget calls for $24.7 billion for NASA (a 6.3% increase from the FY2021 enacted level). The discretionary request further provides $6.9 billion for the Artemis program, $3 billion for research on the International Space Station, and $915 million for aeronautics. The biggest increase was for the STEM workforce, with $20 million (a 16% increase) for the STEM Engagement Office to expand its initiatives. The budget request also provides $715 billion for the Department of Defense, although it did not include any language regarding the Space Force, and $10.2 billion for the National Science Foundation. The administration continues to make climate science a priority, with $6.9 billion earmarked for the National Oceanic and Atmospheric Administration (NOAA), an increase of more than $1.4 billion from the 2021 enacted level. NASA also has released a video and press statement on the budget request.
Celebrate Yuri's Night – April 17
Yuri's Night is a celebration of the first human space flight by Yuri Gagarin and the anniversary of the first space shuttle launch.
Every year, Space Foundation hosts an event that celebrates these achievements of the past and showcases the importance of investing in the future of space.
This year, Yuri's Night is in the audience's hands as an interactive "choose your own adventure" event. The audience will help our pioneering astronaut, Astrid, who was inspired by Yuri Gagarin and every space pioneer that has followed, as she seeks to be the first human on Mars.
Sign Up for Space Symposium 365
Register here to access key events and discussion with industry professionals, 365 days a year.
Upcoming panels and speakers:

April 14 – Panel – "Space Technology: From Space to Earth and Back"
April 22 – Featured Speaker – Brig. Gen. Heather L. Pringle, USAF, Commanding General of the Air Force Research Laboratory
May 19 – Panel – "The Space Beat: Today's Space Reporters Speak"
Space Policy Updates
Space Industry Updates
Key Figure in Space Spotlight: Senator John Hickenlooper
Senator John Hickenlooper (D-CO) Profile
United States Senator John Hickenlooper will serve as chairman of the Commerce Committee's Subcommittee on Space and Science. The subcommittee in the 117th Congress has jurisdiction over national and civil space legislation, and also conducts oversight on bodies such as NASA, the FAA, NIST, NSF, and the National Space Council.
A former geologist, Senator Hickenlooper earned his Master of Science in Geology in 1980. He opened Colorado's first brewpub in Denver, and thirty years later, Wynkoop Brewing Company is considered a Denver institution. He also previously served as Mayor of Denver (2003–2011) and Governor of Colorado (2011–2019).
Senator Hickenlooper said he is "over the moon," to represent Colorado's aerospace industry, which employs around 200,000 people and contributes $15 billion annually to the state's economy. The state of Colorado employs the most private sector aerospace workers per capita in the country, and is a major hub for geospatial and remote-sensing technology companies. Notable Colorado-based companies that were involved in the Mars 2020 mission include Lockheed Martin and United Launch Alliance.
Space is also a key topic for the Colorado representative, as he is one of many Colorado lawmakers pushing back against moving U.S. Space Command from Colorado Springs to Huntsville, Alabama. Sen. Hickenlooper released a statement saying that he will, "ensure the Biden administration reviews this purported decision." Senator Hickenlooper is also concerned with combatting climate change, promoting Earth Science, and protecting public lands.
Space Policy Review: The Artemis Human Landing System (HLS)
The human lunar lander program is a key component of Artemis and NASA's deep space exploration plans, along with the Orion spacecraft, Gateway, and Space Launch Systems (SLS). In a NASA report that outlines its lunar exploration plan, the agency projected spending $16.2 billion from FY2021 through FY2025 on the HLS. However, a House July FY2021 appropriations bill gave the HLS merely $628 million, despite the $3.3 billion requested. In the Senate Appropriations Committee's bill, the Senate also allocated $2.4 billion short of the agency's request for new lunar landers. The final appropriated amount for the HLS was $850 million.
It is unclear how funding for the HLS will change for FY2022. Members of the House Subcommittee on Commerce, Justice, Science, and Related Agencies (CJS) intend to keep NASA funded at its FY2020 level with no increase for Artemis. Rep. Eddie Bernice Johnson (D-TX), chair of the House Science, Space, Technology committee, sent a letter to the White House in February stating there is no market for the HLS, and the government should abandon commercial options in favor of government-owned and operated landing systems. However, it is unlikely the letter will receive further support from other members of Congress. New House Appropriations Committee chair, Rep. Matt Cartwright (D-PA), has previously endorsed Artemis and continued funding for NASA. Earlier this year, eleven Democratic senators signed a letter to President Biden requesting that "robust funding" be maintained for the HLS in its current form, and urging that the HLS decision not be delayed.
Further Reading
The Space Review | Space Force sounds like a joke thanks to pop culture
By Wendy Whitman Cobb
The article discusses how modern pop culture depictions of the Space Force are distracting, given the serious responsibilities the branch is taking on.
The Space Review | NASA revises its low Earth orbit commercialization plan
By Jeff Foust
The article discusses efforts since 2019 to commercialize the ISS, and Congressional skepticism about low Earth orbit commercialization.
Additional Space Foundation Resources
The latest Space4U Podcast episode features Chris Carberry – Cofounder and CEO of Explore Mars, Inc.
A summary of the Subcommittee on Strategic Forces Hearing: "Near-Peer Advancements in Space and Nuclear Weapons" is available on our website.
Online learning, lesson plans, and video lessons for students grades K–12 are available at the Discovery Center website.
Space Trivia
Sixty years ago, on April 12, 1961, Soviet cosmonaut Yuri Gagarin became the first man in space aboard the Vostok 1 spacecraft. (History)
Editor: Andrew de Naray, Multimedia Content Writer & Editor, Space Foundation
---
Posted in Public Policy and Government Affairs