Public Policy and Government Affairs
---
Biweekly Washington, D.C., Update for the Week Ending April 23, 2021
Written by: Hanh Le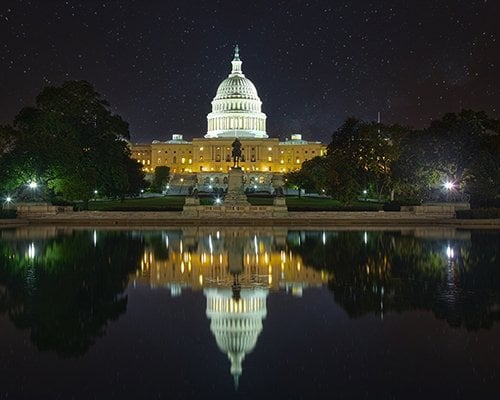 This week, the world celebrated Earth Day, and NASA's Ingenuity helicopter successfully took its first of five scheduled flights on Mars. Later in the week, the Senate held a confirmation hearing for former Senator Bill Nelson to be the next NASA Administrator, and NASA's SpaceX Crew-2 mission successfully launched from Cape Canaveral. Also this week, the House passed H.R. 51, the D.C. statehood bill, sending it to the Senate.
36th Space Symposium: August 23–26, 2021
This year, Space Symposium will be a hybrid event providing both live programming for in-person attendees, as well as virtual access for online participants.
Both offerings will deliver the quality Symposium experience that has been Space Foundation's signature for nearly four decades.
Registration opens next week.
The Space Report Q1 2021 is now available
The latest quarterly edition of The Space Report is out. Download a complimentary copy of the Q1 2021 issue now.
Analysis shows that hiring increased in all five key space sectors, with those sectors employing nearly 5,000 more workers in 2020, a 3.2% increase over 2019. Those new jobs helped propel private space employment to a nine-year high.
In 2020, private space employment totaled 147,953 workers, the highest level since 2011, when 149,818 were employed.
In one sector — Guided Missile and Space Vehicle Manufacturing — monthly Bureau of Labor Statistics (BLS) data shows that another 1,000 employees were hired between December 2020 and January 2021. That sector now has the highest employment levels since 1995, according to the BLS data.
Sign Up for Space Symposium 365
Register here to access key events and discussions with industry professionals, 365 days a year.
Upcoming panels and speakers:

May 19 panel — The Space Beat: Today's Space Reporters Speak
Senate Committee on Commerce, Science, Transportation Hearing: Nomination of Former Senator Bill Nelson to be NASA Administrator
Former Sen. Nelson received endorsements from Sen. Marco Rubio (R-FL) and former Senator Kay Bailey Hutchinson (R-TX), and positive comments from Sens. John Thune (R-SD), Jerry Moran (R-KS), Ted Cruz (R-TX), and Jon Tester (D-MT).
Nelson received a warm welcome from many Senators as they recounted their close relationships with him in the Senate.
Former Sen. Bailey Hutchinson said Nelson is a champion for commercial space and emphasized their work on the 2010 NASA Authorization bill, remarking, "Bill is the leader NASA needs now."
Nelson thanked former Administrator Jim Bridenstine for his leadership at NASA, doing a, "remarkable job under difficult circumstances," and adding that there should be no partisanship when it comes to NASA.
There were a few questions on the Artemis program and its 2024 Moon landing goals, and about the Human Landing Systems (HLS) contract going to SpaceX. Nelson expressed his support for commercial competition, STEM outreach, and Earth Sciences. He added that the goal for a crewed mission to Mars is currently targeted for the 2030s.
Space Policy Updates
Space Industry Updates
Key Figure in Space Spotlight: Senator Cynthia Lummis (R-WY)
In January 2021, Cynthia Lummis was sworn in as the first female Senator from Wyoming. She had previously served in the House of Representatives from 2009–2017, occupying the state's at-large seat.
Sen. Lummis now serves as Ranking Member on the Senate Commerce, Science, & Transportation Committee's Subcommittee on Space and Science. Sen. Lummis' focus includes conservation and protection of Wyoming's wildlife, as well as advocating for the National Science Foundation's Computation and Information Systems Lab in Cheyenne. In a press statement on her committee appointments, Sen. Lummis shared that she is, "excited to use [her] spot on the Space and Science Subcommittee to support the people of Cheyenne as they continue their mission."
Her other committee assignments include the Committee on Environment and Public Works, as well as the Committee on Banking, Housing and Urban Affairs. During her term in the House, she served on the Committee on Natural Resources, as well as the Committee on Science, Space and Technology.
Before earning her Juris Doctor, Sen. Lummis also received two Bachelor of Science degrees in Biology and Animal Science from the University of Wyoming. After obtaining her degrees, she entered public service as a clerk at the Wyoming Supreme Court. Her long public service career includes service for the Governor's office, as State Treasurer, and in both branches of the Wyoming State Legislature. Her family owns and operates a large cattle ranch in the state.
Space Policy Review: FY2022 Proposed Budget
The White House released President Biden's FY2022 budget request, which was accompanied by a press statement.
The budget requests $24.7 billion for NASA (a 6.3% increase from the FY2021 enacted level). The discretionary request further provides $6.9 billion for the Artemis program, $3 billion for research on the International Space Station, and $915 million for aeronautics. The biggest increase was for the STEM workforce, with $20 million (a 16% increase) going to the STEM Engagement Office to expand its initiatives.
The budget request also provides $715 billion for the Department of Defense (although it did not include any language regarding the Space Force), and $10.2 billion for the National Science Foundation.
The administration continues to make climate science a priority, with $6.9 billion earmarked for the National Oceanic and Atmospheric Administration (NOAA), an increase of more than $1.4 billion over the 2021 enacted level. NASA also has released a video on the budget request.
Further Reading
The Space Review | Review: The High Frontier
By Jeff Foust
The author reviews a new documentary about Gerard K. O'Neill, directed by Ryan Stuit.
Additional Space Foundation Resources
The latest Space4U Podcast episode features Dr. Tracy Fanara, NOAA scientist and program manager, media personality, and role model for girls interested In STEM.
Online learning, lesson plans, and video lessons for students grades K–12 are available at the Discovery Center website.
Space Trivia
Sixty-two years ago, on April 9, 1959, NASA introduced the United States' first astronauts to the press. The Project Mercury astronauts introduced were Scott Carpenter, L. Gordon Cooper Jr., John H. Glenn Jr., Gus Grissom, Water Schirra Jr., Alan Shepard Jr., and Donald Slayton. (History)
Editor: Andrew de Naray, Multimedia Content Writer & Editor, Space Foundation
---
Posted in Public Policy and Government Affairs