Year In Review (archive)
---
Annual Report: New Generation Initiatives
Written by: developer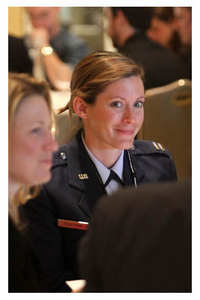 Through our New Generation Initiatives, we help promising young space professionals learn about the business and advance their careers.
In 2011, almost 150 young space professionals attended specialized New Generation Space Leaders programs at the 27th National Space Symposium, starting with the popular "speed mentoring" New Generation Leadership Exchange where up-and-coming space professionals met with senior industry leaders to gather insight and get career tips. Programs focused on space policy and budgets development.
Later in the year, we sponsored a reception at the AMOS Conference in Maui, Hawai'i, at which 65 young space professionals networked with senior space leaders. And, we co-sponsored and spoke on education, space policy and building public awareness of the benefits of space at SpaceVision 2011 in Boulder, Colo. Orchestrated by the Students for the Exploration and Development of Space (SEDS) and coordinated by the University of Colorado SEDS Chapter, SpaceVision 2011 was attended by 400 college students and professionals from around the world.
For the full story, you can now see Quantum Leap: 2011 Annual Report on the Space Foundation's brand new website. Just click here, click the Annual Report cover on the left and enjoy.
To learn more about the Space Foundation, go to www.SpaceFoundation.org.
This article is part of Space Watch: February 2012 (Volume: 11, Issue: 2).
---
Posted in Year In Review (archive)