Cyber Initiatives
---
Exceptional Speakers Elevate Space Foundation's 2013 Cyber 1.3 Conference
Written by: developer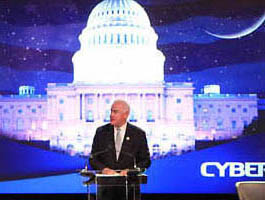 The Space Foundation's annual cyber conference grows more dynamic each year, with the 2013 Cyber 1.3 conference featuring the nation's top policy makers, military leaders and cyber experts.
The conference was held April 8 at The Broadmoor Hotel in Colorado Springs, Colo., and opened with featured speaker The Honorable Patrick Meehan (R-PA), who serves as the subcommittee chairman of the Cybersecurity, Infrastructure Protection and Security Technologies for the House Committee on Homeland Security.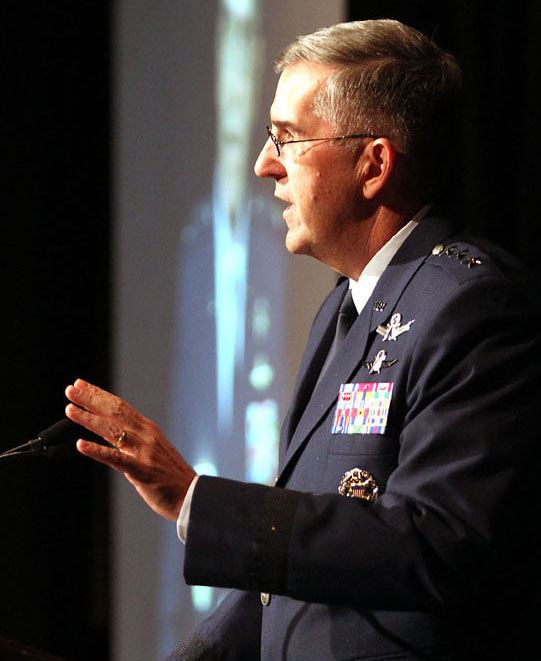 In his comments, Meehan said he has been working on current threats to cyber infrastructure and it has been "sobering." According to Meehan, adversaries look to disrupt, or destroy cyber infrastructure. "Cyber attacks may soon shift from espionage to destruction," said Meehan. "Security breaches are the new normalcy."
See the video of his comments here.
Lt. Gen. John E. Hyten, USAF, vice commander, Air Force Space Command, headlined the Cyber 1.3 luncheon, co-sponsored by General Dynamics Advanced Information Systems. Hyten said he spends more time on cyber than on space because the challenges are so enormous, saying, "If we don't defend it all the time, we're going to have significant problems."
See the video of his comments here.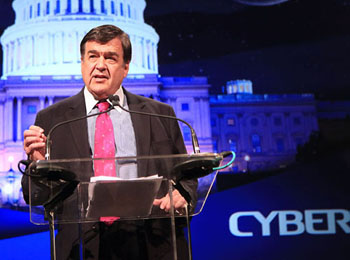 The Honorable C.A. "Dutch" Ruppersberger (D-MD) was the last featured speaker of the conference. In his remarks he expressed concern about cyber threats to the United States, "We are getting attacked on a regular basis. Eighty percent of our network in the U.S. is controlled by a handful of providers. Government must work with the private sector."
See more in the video here.
Other speakers included Maj. Gen. Suzanne M. Vautrinot, USAF, who was unable to travel to the conference, but delivered her comments via video (see the video here) and Kurt Baumgartner, who is senior security researcher for the Americas at Russia-based IT security firm Kaspersky Lab. Baumgartner is responsible for monitoring the malware landscape across the Americas. He estimated there have been more than 100,000 collateral attacks around the world, and that more than 40 threats have already been identified in the first quarter of 2013 (see video of his presentation here).
In addition to the featured speakers, the Cyber 1.3 conference also included a full day of panel discussions. See video of all the panels here.
See photos of Cyber 1.3 events here and read synopses of presentations here.
This article is part of Space Watch: May 2013 (Volume: 12, Issue: 5).
---
Posted in Cyber Initiatives