Space Foundation Press Releases
---
Moon Rock has Landed at Space Foundation Discovery Center in Colorado Springs
Written by: developer
COLORADO SPRINGS, Colo. (June 14, 2013) – A Moon rock that was part of the largest sample brought back from the lunar surface by Apollo 15 astronauts is now on display at the Space Foundation Discovery Center, the region's only space, science and technology attraction.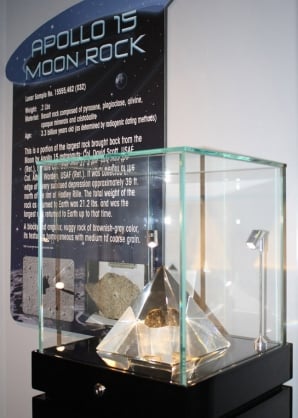 The rock weighs .2 pounds and was part of a larger piece weighing more than 21 pounds when it was collected by astronauts Col. David Scott, USAF, Ret., Col. James Irwin, USAF, Ret., and Col. Alfred Worden, USAF, Ret. The 1971 mission was the ninth manned mission in the U.S. Apollo space program and the fourth to land on the Moon.
The rock was collected approximately 39 feet north of the rim of the Hadley Rille., and is 3.3 billion years old, as determined by radiogenic dating methods.
The rock is on loan from the NASA Johnson Space Center, and will remain on display at the Space Foundation Discovery Center through November 2013.
About the Space Foundation Discovery Center
The Discovery Center is open to the public from 10:00 a.m. to 5:00 p.m., Tuesdays through Saturdays, and is located off Garden of the Gods Road at 4425 Arrowswest Drive, Colorado Springs, Colo.
The initial exhibit, Launch to the Moon, includes a collection of space artifacts which chronicles the 1959-1976 United States and Soviet Union space race and the goal to be the first to the Moon.
During the "Summer of Discovery," each week at the Discovery Center focuses on a specific theme, culminating with a full day of special activities each Saturday, included in the price of the admission.
Daily admission is $9 for adults, $7 for seniors (age 65+), $7 for college students with I.D., $3 for children ages 4-17. Children age three years and younger are admitted free.
Admission is free with military I.D., to those affected by Colorado wildfires and to first responders. The Discovery Center is a collection point for Care and Share Food Bank for Southern Colorado. Anyone bringing a food donation will receive a $2 off admission coupon.
See details about "Summer of Discovery" activities and find a $1 off admission coupon online at www.spacefoundation.org/summer-fun.
"Summer of Discovery" co-sponsors are 501st Legion, Drive Sunshine Institute, ScienSonic and Wendy's. ATK and Snappy Print are printing co-sponsors.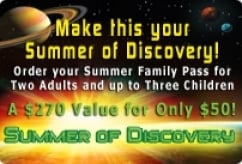 "Summer of Discovery" themes include:
"Astronauts!" June 18-22
"Blue Planet – Green Living" June 25-29
"Red, White and Blue" July 2-6
"Weather Wonders" July 9-13
"One Giant Leap" July 16-20
"Women in Spaceflight" July 23-27
"Colorado Days" July 30-Aug. 3
"A Taste of Space Technology" Aug. 6-10
About the Space Foundation
The foremost advocate for all sectors of the space industry and an expert in all aspects of space, the Space Foundation is a global, nonprofit leader in space awareness activities, educational programs that bring space into the classroom and major industry events, including the annual Space Symposium, all in support of its mission "to advance space-related endeavors to inspire, enable and propel humanity." The Space Foundation publishes The Space Report: The Authoritative Guide to Global Space Activity and provides three indexes that track daily U.S. stock market performance of the space industry. Through its Space Certification™ and Space Technology Hall of Fame® programs, the Space Foundation recognizes space-based technologies and innovations that have been adapted to improve life on Earth. The Space Foundation was founded in 1983 and is based in Colorado Springs, Colo. Its world headquarters features a public Discovery Center with two main areas – the El Pomar Space Gallery and the Northrop Grumman Science Center featuring Science On a Sphere®. The Space Foundation also conducts research and analysis and government affairs activities from its Washington, D.C., office and has a field office in Houston, Texas. For more information, visit www.SpaceFoundation.org. Follow us on Facebook, LinkedIn and Twitter, and read about the latest space news and Space Foundation activities in Space Watch.
---
Posted in Space Foundation Press Releases