Public Policy and Government Affairs
---
Biweekly Washington, D.C., Update for the Week Ending May 29, 2020
Written by: Hanh Le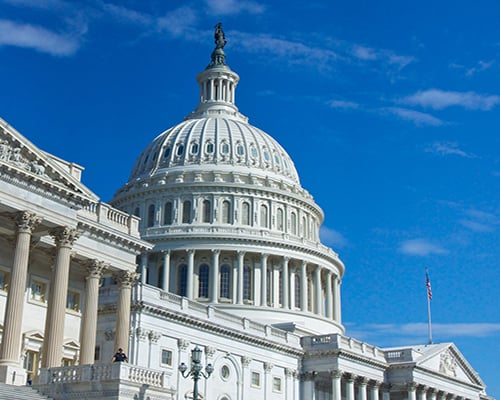 Washington, D.C., along with the rest of the world, tuned in Wednesday to watch the SpaceX Demo-2 launch return astronauts to space from U.S. soil for the first time since 2011. Due to uncooperative weather that day, the world now eagerly awaits the rescheduled launch on Saturday, May 30 at 3:22 EDT. Today, the District of Columbia enters phase one of reopening in the wake of coronavirus-related closures. Earlier this week, the House voted on a bill that would revise the Paycheck
Protection Program, and Senate Armed Services Committee Chairman Jim Inhofe (R-OK) and Ranking Member Jack Reed (D-RI) released the FY2021 National Defense Authorization Act
markup schedule.
Space Foundation Event Highlights
Space Foundation launches the Center for Innovation and Education
The Center for Innovation and Education will create and deliver innovative, sustainable workforce development and economic opportunity programs for the rapidly growing $415 billion global space economy.
With pandemic-driven unemployment reaching millions and growing, there now exists a viable pipeline of workers who represent all demographics and skill sets who could fill labor gaps in the space economy. A unique opportunity exists to raise awareness, share knowledge, and provide training to prepare workers for space-related jobs, particularly as many must now spend time at home.
To date, the Center for Innovation and Education has piloted two successful programs (Space Commerce Entrepreneurship Program and Junior Space Entrepreneur Program).
Space Policy Pod: Episode 2 – Matt Scholl
This new podcast series, presented by the Space Foundation along with the American Institute of Aeronautics and Astronautics (AIAA), the MITRE Corporation, and the U.S. Chamber of Commerce, examines events and ideas pertaining to the space industry.
The second episode of the Space Policy Pod features a discussion on cybersecurity with Matthew Scholl of the National Institute of Standards and Technology (NIST).
Scholl is the Chief of the Computer Security Division in the Information Technology Laboratory at NIST. He is responsible for the development of cryptographic standards used by the U.S. government and internationally, as well as cybersecurity research and development.
Each episode of the Space Policy Pod will invite leaders in the space industry to have a candid conversation and share their perspectives on current events in the space policy landscape.
Space Industry Updates
Space Policy Updates
Additional Space Foundation Resources
The Space Report Quarter 1 – 2020 provides significant insights on workforce development, spacecraft activities, statistics, and analyses covering satellites for communication, Earth observation, and navigation.
The latest Space4U Podcast episode features Brad Poorman and Jim Hind from Clean Textile Technology, a company that has applied NASA-developed technologies to smart outdoor apparel using the science of emissivity to retain heat.
Online learning, lesson plans, and video lessons for students grades K–12 are available at the Discovery Center website.
Further Reading
The Space Review | When Washington went to the Moon: An interview with Glen Wilson
by Dwayne A. Day
Glen Wilson was a Senate staffer who worked closely with then-Senator Lyndon Johnson and played an important role in drafting the legislation that created NASA in 1958.
In this interview, Wilson provided his perspective on why Johnson later, as president, may have been reluctant to cut the Apollo budget in 1966 and 1967.
Center for Strategic & International Studies | International Perspectives on Space Weapons
by Todd Harrison
This CSIS paper analyzes the international weaponization of space and space weapons. It also examines international agreements and ongoing developments surrounding space weapons.
Space Trivia
On May 31, 2008, the STS-124 mission launched aboard the Space Shuttle Discovery. The mission objective was to deliver the Pressurized Module and robotic arm of the Japanese Experiment Module known as "Kibo" to the International Space Station. (Source: NASA)
---
Posted in Public Policy and Government Affairs