Report from Headquarters
---
Successful Summer of Space and Science Education
Written by: developer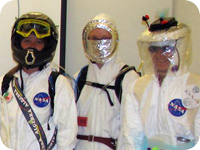 It was an extraordinary summer of space and science education for the more than 225 educators from across the country who participated in the 2008 Space Discovery Institute. The nine courses this summer covered subjects including biological and physical research; kinesthetic astronomy principles; imagery and high tech science; earth systems science; and rocketry and the biology of living in space. These classes were conducted in Colorado Springs, Colo. and La Plata, Md.
Highlights included lessons in rocket construction, stargazing, microgravity experiments, robot design, a field trip to the Goddard Space Flight Center in Greenbelt, Md., geology tours of unique Colorado Springs locations, and training in high-tech computer space software for students. Team members from the Space Foundation's Washington, D.C., office joined the Charles County Space Discovery Institute and spoke about the global space industry, the economic impact of space activities, space activities in the U.S. and internationally, and how space-related policy and law is developed and executed.
Space Discovery Institute courses are interactive, hands-on workshops designed to provide educators with experience, knowledge, and content that is instantly transferable into the classroom. These courses provide pre K – 12th grade educators with the skills and techniques they need to capture the imagination and interest of their students using space to inspire, enable, and propel them to study the Science, Technology, Engineering, and Mathematics (STEM) disciplines.
Other Space Foundation education activities this month included the launch of Orion's Path, a strategic education collaboration with Lockheed Martin and SpaceClass. Orion's Path is an interactive, online, Web-based education program using videos and virtual science labs to engage students in space exploration. The site is free to teachers at www.spaceclass.org.
For more information about Space Foundation education programs, visit www.SpaceFoundation.org/education.
This article is part of Space Watch: August 2008 (Volume: 7, Issue: 8).
---
Posted in Report from Headquarters