Report from Headquarters
---
Education Team Shares Inspiration of Space With Students
Written by: developer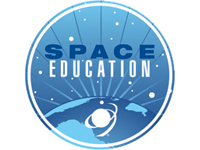 The Space Foundation's education team recently participated in the Sally Ride Science Festival and the Competitiveness Crisis Council conference to help normally overlooked groups of students realize their dreams of careers in aerospace.
The Sally Ride Science Festival aims to inspire girls aged 10-14 to think about careers in science. The first festival was held Sept. 13 at in the University of Colorado at Colorado Springs. During the festival, 300 girls were able to experience science up close and personal. Girls lined up at the Space Foundation's booth to make their own relaunchable paper rockets. After spending a couple of hours visiting various booths, the attendees listened to former astronaut Sally Ride and asked her questions. Following her session, the girls attended various workshops. The Space Foundation education team conducted two workshops on making Goddard rockets. The entire event was well attended and provided inspiration to girls who are not often encouraged to pursue studying science in school.
On Sept. 20, the education team flew to Los Angeles to participate in the second annual Competitiveness Crisis Council, held at the Davidson Executive Conference Center on the University of Southern California campus. This conference focuses on providing motivation for inner-city and Hispanic students to look at science as a way to excel in school and as a career possibility. Students had the chance to participate in two Space Foundation workshops during the conference. The "Puffy Head, Bird Leg Syndrome" workshop engaged students in a situation resembling an astronaut's experience in microgravity. In the "Airplane and Rocket Engine Vectoring:  A modified way to maneuver vehicles" workshop, students made their own flying vehicle and experimented with thrust vectoring. After the workshops the students were able to participate in a "tech fair" in which they could visit with the participating companies and ask questions about science, etc. The education team also had an opportunity to introduce Los Angeles area teachers to the education programs and resources the Space Foundation offers.
Overall, both conferences were an important step in instilling inspiration in young girls and the inner-city populations to look at science as an exciting path to follow in school and beyond into their careers.
This article is part of Space Watch: October 2008 (Volume: 7, Issue: 10).
---
Posted in Report from Headquarters