Report from Headquarters
---
Space Certification Program
Written by: developer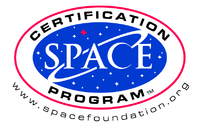 Space Age Home Improvements
Space Certification Program partner Solar Comfort Environmental Technologies recently completed the installation of Radiant Energy Barrier Window Coverings at the Space Foundation's headquarters in Colorado Springs, Colo.  These eco-friendly thermal reflective window coverings are a Certified Space Technology. The radiant energy barriers are based on the NASA technology that helps keep astronauts comfortable in their spacecraft despite outside temperatures of +250° to -400° Fahrenheit. They reduce heating and cooling costs by reflecting up to 80 percent of radiant solar energy while providing privacy, a clear view, and protection from glare and ultraviolet fading.
For more information, visit www.solarcomfort.us.
GMV Newest Corporate Patron Member
GMV Innovating Solutions is a privately owned technological business group supporting customers from the consultancy and engineering services stage up to the development of software and hardware and the integration of turnkey systems and operational backup.
GMV provides a variety of space technology-based products, solutions, and services to meet the needs of the constantly developing global market.  GMV has an international presence that serves clients in the aeronautics, banking and finances, space, defense, health, security, transportation, telecommunications, and information technology sectors.
For more information, visit www.gmv.com.
This article is part of Space Watch: October 2008 (Volume: 7, Issue: 10).
---
Posted in Report from Headquarters