Space Foundation Press Releases
---
Space Foundation Recognizes Three GMV Products as Certified Space Technologies
Written by: developer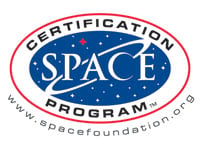 COLORADO SPRINGS, Colo. (Dec. 11, 2008) — The Space Foundation welcomed insightArthroVR, Moviloc®, and SAGRAN, three of GMV's many space-based products, as Certified Space Technologies. The Space Certification program was created by the Space Foundation, in cooperation with NASA, to raise awareness and understanding about the significant and practical benefits of technologies originally developed for the space program which have been adapted into products and services that improve life on Earth. 
insightArthroVR is an arthroscopy surgery simulator that combines space image enhancement software, virtual reality, and computer-aided training techniques to provide surgeons with highly realistic training. Currently designed for shoulder and knee arthroscopy, it represents an invaluable complement to traditional training techniques to acquire and improve the skills needed for minimally invasive surgery.
Using satellite-based global positioning system (GPS) data, Moviloc® is a complete fleet-tracking and management service providing tracking, route reports, and services to improve day-to-day running and fleet-investment decision-making, all on the basis of secure Internet access. Moviloc-BUS® meets the need for a simple, Web-based fleet management system and has been fitted to more than 450 buses.
Also using GPS data, SAGRAN is a sophisticated Relative-GPS-Based Naval Landing Approach System, which provides crucial approach and landing phase navigation information to aircraft landing on mobile platforms, such as aircraft carriers. The airborne and ship-borne equipment allow SAGRAN to provide air-navigation information for up to 15 aircraft operating in the vicinity of the vessel.
"I am pleased to welcome these products as our latest Certified Space Technologies," said Kevin Cook, director of space awareness programs for the Space Foundation. "GMV has done an extraordinary job of developing products from space based technologies to improve life here on Earth."
For more information about insightArthroVR, Moviloc®, SAGRAN, and other space technologies that improve life here on Earth, visit the Space Certification Program online at www.SpaceConnection.org.
About GMV
GMV is a privately owned technology business group with a strong presence around the world. Founded in 1984, GMV offers its solutions, services and products in very diverse sectors: Aeronautics, Banking and Finances, Space, Defense, Health, Security, Transportation, Telecommunications, and Information Technology. GMV is one of the leading global suppliers of satellite ground systems, the third largest supplier to the European Satellite Navigation System Galileo, and is deeply involved in developing new and innovative applications of satellite navigation technology. GMV provides a variety of space technology-based products, solutions, and services to meet the needs of the constantly developing global market. GMV's U.S. headquarters are in Rockville, Md., and its European headquarters are in Madrid, Spain. More information about GMV and its products can be found at www.gmv.com.
About the Space Foundation
Founded in 1983 and celebrating its 25th anniversary this year, the Space Foundation is an international nonprofit organization advancing space-related endeavors to inspire, enable, and propel humanity.  A leader in space awareness activities, major industry events, and educational enterprises that bring space into the classroom, the Space Foundation is headquartered in Colorado Springs, Colo.  It conducts research and analysis and government affairs activities from its Washington, D.C., office and has field representatives in Houston, Texas, and Cape Canaveral, Fla. The 25th National Space Symposium, the premier annual gathering of the global space community, will take place March 30 – April 2, 2009, at The Broadmoor Hotel in Colorado Springs.  Along with partnering organizations, the Space Foundation also conducts Space Business Forum: New York on June 4, 2009, in New York, N.Y., and Strategic Space and Defense 2009 from 6-8 October in Omaha, Neb.  For more information, visit www.SpaceFoundation.org.
###
---
Posted in Space Foundation Press Releases