Report from Headquarters
---
Education Events Focus on the Next Space Age
Written by: developer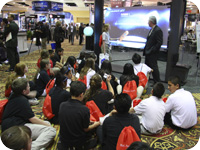 The education events at the 25th National Space Symposium are designed to focus on the Next Space Age and how educators and students will play a major role in creating and living the future, echoing the theme of the symposium.
"Our focus is to inspire the next generation of explorers," said senior aerospace education specialist Bryan DeBates of the Space Foundation. "Whether it is through educator workshops for our Teacher Liaisons, student tours of the Boeing Exhibit Center, the "Audience with an Astronaut" program for elementary and middle school students, or the Space Career Fair, we expose educators and students to the exciting possibilities that space holds for our future. And the best part is that they will be a huge part of it."
Each year the Space Foundation's education department hosts a week of educational activities created to inspire tomorrow's explorers. Activities on Tuesday, March 31, will concentrate on the Space Foundation Teacher Liaisons, a group of nationally-recognized educators who are passionate about teaching space science. Teacher Liaisons will participate in a day-long workshop featuring engaging speakers and the latest cutting-edge, hands-on curriculum that can be immediately taken back to classrooms.
On Wednesday, April 1, attention will turn to stimulating student interest in space science. Students accompanied by Teacher Liaisons will experience various aspects of the National Space Symposium. The highlight for high school students will be touring the Boeing Exhibit Centers. As these students prepare to commit to their college career paths, participation in this event may sway some to make space their future.
Third to fifth grade elementary students of Teacher Liaisons will participate in "Audience with an Astronaut," where they will ask questions about what it is like to experience microgravity and live in space. A brand new program added this year is an "Audience with an Astronaut" program for middle school students. This more advanced program will highlight what it takes to become an astronaut and what middle school students need to do now to prepare to become a space traveler. The "Audience with an Astronaut" programs are co-sponsored by the New Mexico Space Grant.
On Thursday, April 2, the spotlight will be on the Space Career Fair. College graduates and transitioning military personnel will have the opportunity to combine their love for space and their technical education to find a career in the space industry. The morning's unique "Meet the Company" presentations allow employers to highlight the benefits of working for their companies and the unique offerings they provide their employees. A Q & A session will allow prospective employees to ask questions of the individual companies. A networking lunch with a guest speaker follows the "Meet the Company" presentations. During the afternoon session, attendees will have the opportunity to visit with representatives of individual companies and institutions, hand out resumes, and even interview.
Friday's education event features another Teacher Liaison exclusive. Teacher Liaisons transitioning from probationary to full status attend the Teacher Liaison Professional Development Tour. This year the Teacher Liaisons will travel to Boulder, Colo., to the National Oceanic and Atmospheric Administration's (NOAA) facility there. Teachers will be given a tour of the facilities, including the National Weather Service station and the Space Weather Prediction Center. The highlight of the tour will be the Science on a Sphere presentation.
Registration is required for all events. For further information regarding the Space Foundation's education programs go to www.SpaceFoundation.org or email [email protected]
This article is part of Space Watch: March 2009 (Volume: 8, Issue: 3).
---
Posted in Report from Headquarters