Report from Washington, D.C.
---
Washington Report
Written by: developer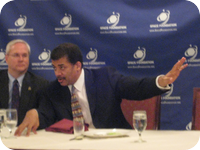 On March 12, the Space Foundation hosted a meeting of the Space Foundation Correspondents Group (SFCG) featuring famed Astrophysicist, Author, and Director of the Hayden Planetarium Neil deGrasse Tyson, Ph. D., who spoke about the need for a grand vision for space that will inspire and attract the most talented minds to science and engineering. Dr. Tyson argued that a manned mission to Mars would provide the excitement that Apollo had provided, but, rather than basing missions on destinations, exploration should be the mission, with a host of space-based points of interest, including the Moon, Mars, Asteroids, and other locations. This SFCG event is part of a regular series of gatherings for Washington, D.C.-based space, defense, science and technology, business, and international journalists to engage in dialogue with leaders from across the space industry.
On March 26, the Space Foundation hosted, along with National Defense Industry Association, the first Congressional Space Power Lecture event of the year. Featured guest speaker Gen. C. Robert "Bob" Kehler, Commander, Air Force Space Command, spoke about space debris and space situational awareness (SSA) to the more than 80 attendees. The Space Power Lecture series exposes elected officials, their staffs, industry leaders and key government organizations to valuable information and insights about space and space policy.
The Space Foundation released the second edition of Introduction to Space Activities, a quick reference guide to basic and fundamental concepts of space activities for staffers who handle space policy issues.
From a congressional perspective on space policy, Congresswoman Ellen Tauscher (D-CA) has announced that she is leaving the House of Representatives to become Undersecretary of State for Arms Control and International Security. She has been a strong voice for space as chairwoman of the Strategic Forces Subcommittee at the House Armed Services Committee. At this time, it is unclear who will succeed her in becoming the new chair of that subcommittee.
 
This article is part of Space Watch: April 2009 (Volume: 8, Issue: 4).
---
Posted in Report from Washington, D.C.