Report from Headquarters
---
Successful Space Discovery Institute Series Wraps Up
Written by: developer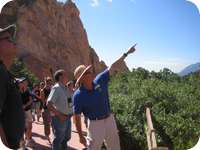 This month, the Space Foundation is completing the last of 17 week-long Space Discovery Institute professional development classes for teachers and students it has taught over the summer.
Two sessions conducted for teachers in Charles County, Md., were complimented by an educational exchange hosted by the Space Foundation and the Charles County School Board during the last week of July. This was the third educational exchange in which school board members, administrators, teachers, students, and interested parties of the community exchanged ideas concerning the future of education in the district.
A highlight for the teachers was a trip to the Johns Hopkins Applied Physics Lab (APL). Through this rare tour of the facilities, the teachers were treated to visits to APL's giant satellite communications dish, its satellite vibration test lab, and its satellite thermal test lab. Teachers were also given information on various missions that the lab is involved in, including the Solar Terrestrial Relations Observatory - or STEREO - mission, and current and future missions to the Moon and Mars.
The final phase of the summer-long program is during the first week of August, where the Space Foundation offered three simultaneous classes: Rocketry and Lunar/Mars Exploration and Base Construction in Charles County, and Earth Systems Science for Colorado Springs, Colo., School District 11.
During the rocketry course, teachers learn how to bring rocketry into the classroom by studying rocketry principles and by building various types of rockets, including chemical rockets. They also learn how to use rocketry software, such as RockSim, in the classroom.
The Lunar/Mars Exploration and Base Construction class explores what it will take to have humans land on and survive on the Moon and Mars. The teachers learn what type of advanced life support will be needed to keep humans alive, and then build a model of a theoretically functioning Mars or Moon base.
The Earth Systems Science class, held in Colorado Springs, is the first class in a new partnership between the Space Foundation and Colorado Springs School District 11, which includes creation of the new Jack Swigert Aerospace Academy.
For more information on these or other Space Foundation education programs, visit http://www.spacefoundation.org/what-we-do/education.
Photo: Jay Temple, geology instructor, takes Space Discovery Institute students on a geologic tour of Garden of the Gods in Colorado Springs as part of the Earth Systems Science class
This article is part of Space Watch: August 2009 (Volume: 8, Issue: 8).
---
Posted in Report from Headquarters