Report from Headquarters
---
George Finds a New Home
Written by: developer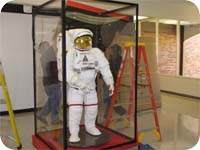 The Space Foundation has loaned its authentic NASA spacesuit, nicknamed "George," to Jack Swigert Aerospace Academy in Colorado Springs.  George, who also serves as the Space Foundation's education "mascot," is shown here being installed in the middle school's main hallway. (See related article on the Jack Swigert Aerospace Academy in this issue of Space Watch.)
George, which is actually an Extravehicular Mobility Unit (EMU), was donated to the Space Foundation by his manufacturer, Hamilton Sundstrand, a subsidiary of Hartford, Conn.-based United Technologies.
The EMU, used for Space Shuttle/International Space Station missions, is an independent anthropomorphic system that provides environmental protection, mobility, life support, and communications for an astronaut to perform extra-vehicular activity (EVA) in earth orbit. The EMU consists of a hard upper torso (HUT) assembly, a primary life support system (PLSS), arms, gloves, Apollo-style "bubble" helmet/extravehicular visor assembly (EVVA), and a soft lower torso assembly (LTA).
In space, the astronaut wears several additional garments under the EMU: a maximum absorbency garment (a modified "Depends"-type diaper), a thermal control undergarment (long johns), and a liquid cooling and ventilation garment (incorporates clear plastic tubing through which chilled liquid water flows for body temperature control, and ventilation tubes for waste gas removal), and a "Snoopy cap,"(a brown and white fabric communications cap dating back to the Apollo days that incorporates a pair of earphones and microphones). The EMU is pressurized to an internal pressure of 4.3 psi (30 kPa) and can support an astronaut for 8½ hours, with 30 minutes of reserves in the case of primary life support failure.
George is shown here being installed at the Jack Swigert Aerospace Academy.
This article is part of Space Watch: September 2009 (Volume: 8, Issue: 9).
---
Posted in Report from Headquarters