Report from Washington, D.C.
---
The Space Report Recognized for Printing Excellence
Written by: developer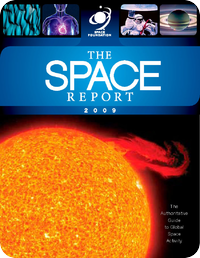 The Space Report 2009: The Authoritative Guide to Global Space Activity produced by the Space Foundation has won a prestigious printing award in a state-wide Florida competition.
The glossy report on the state of the $257 billion space industry received an Award of Excellence in the environmentally sound materials category of the Printing Association of Florida's "Florida Print Awards," the state's largest and most important printing competition. The competition promotes excellence in the industry and recognizes the best in print media.
Released in March 2009, The Space Report 2009 is a 136-page, perfect-bound book that met the standards and responsible footprint certification requirements of the Forest Stewardship Council (FSC). FSC is an independent, non-governmental, not-for-profit organization established to promote the responsible management of the world's forests.
"The Space Foundation is an eco-friendly organization," said Marty Hauser, vice president – Washington Operations, Research and Analysis and The Space Report program manager. "We chose FSC accreditation because the organization is widely recognized for its green certification. FSC rules cover everything from forestry management and labor standards to the supply chain that ensures that the paper stock has been produced in accordance with FSC principles. The FSC certifies paper products from well-managed forests, controlled sources, and recycled wood or fiber so it is good for business and the environment."
Two Florida firms assisted in the production of The Space Report 2009. brandt ronat + company of Merritt Island, Fla., has served as the design/development team for the annual publication since 2006. The 2009 edition was printed by Southeastern Printing of Stuart, Fla., the state's third largest printer.
This article is part of Space Watch: September 2009 (Volume: 8, Issue: 9).
---
Posted in Report from Washington, D.C.