Report from Headquarters
---
Introducing: Space Across the Curriculum
Written by: developer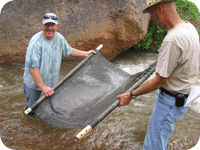 The Space Foundation's popular Space Discovery Institute classes have been renamed Space Across the Curriculum. The new name better differentiates individual courses from the newly launched Space Foundation Discovery Institute on the campus of the Jack Swigert Aerospace Academy in Colorado Springs. The name also better describes the content of the courses, which use space principles to teach a wide variety of topics across all academic disciplines.
For more than 20 years, the Space Foundation has offered these space-related classes for teachers with curriculum focused on science, technology, engineering, and mathematics (STEM).
The week-long, intensive, graduate-level, in-residence courses provide PreK-12 educators with STEM content that is instantly transferable to the classroom. This year, 17 sessions were conducted in Omaha, Neb., Charles County, Md., and Colorado Springs, Colo. Participants can earn continuing education credits, graduate credits, or work toward master's degrees in multiple related disciplines through both Regis University and the College of Education at the University of Colorado at Colorado Springs. Previously taught almost exclusively in the summer, the class schedules have grown to include courses targeted to specific groups during the school year.
The new name for the classes exemplifies the Space Foundation goal of incorporating space into every facet of a school's curriculum, including non-technical areas such as literature, art, and music.
"We know that children learn better when the material is interesting and the classroom format is discovery-based," said Iain Probert, Space Foundation vice president of education. "We also know that learning is reinforced when a common theme is reinforced across multiple topic areas.
"Children are fascinated by space, which makes learning fun," he continued. "And space can be applied to such a broad spectrum that it can truly be used across an entire curriculum."
Starting summer 2010, Space Across the Curriculum classes will be held at the new Space Foundation Discovery Institute on the campus of the Jack Swigert Aerospace Academy, 4220 East Pikes Peak Ave., Colorado Springs.
See more about the 2010 Space Across the Curriculum class offerings here.
This article is part of Space Watch: October 2009 (Volume: 8, Issue: 10).
---
Posted in Report from Headquarters