Report from Headquarters
---
Pulham Featured on Two Internet Radio Space Shows
Written by: developer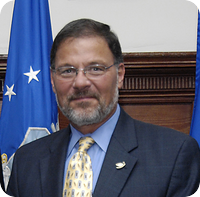 Space Foundation Chief Executive Officer Elliot Pulham is participating in two space-related Internet radio shows this month
Space Talk with Jim Banke, Oct. 17: Pulham will discuss the upcoming Strategic Space Symposium, U.S. space programs, his views on the Review of U.S. Human Space Flight Plans Committee report and recommendations, and the Space Foundation's September delegation visit to China's space agencies on the Oct. 17 edition of Space Talk with Jim Banke.
Space Talk with Jim Banke is broadcast live each Saturday at 2:00 p.m. EDT from WMMB's Showcase Studio at the Florida Marketplace in Melbourne, Fla. The show can be heard live on the Internet at www.wmmbam.com and in Brevard County on 1240 AM and 1350 AM.
The weekly program is sponsored by United Space Alliance and is hosted by veteran aerospace writer and commentator Jim Banke, owner and president of MILA Solutions, LLC.
Listeners can participate in the program by calling into the studio during the Oct. 17 broadcast at 1.321.768.1240. Local ATT Wireless customers can call at no charge by dialing *1240. Questions and comments also can be sent via email to [email protected] or via Twitter.
The Review of U.S. Human Space Flight Plans Committee, chaired by retired Lockheed Martin CEO Norm Augustine, was established by the Obama administration to evaluate U.S. human space flight programs and develop alternatives to ensure that future human space flight plans are safe, innovative, affordable, and sustainable. The Executive Summary report was released in September and the final report is expected to be released later this month.
For information on the Space Foundation Delegation to China, see The View From Here in this issue of Space Watch.
The Space Show with Dr. David Livingston, Oct. 5:  Pulham participated with other space experts in an Oct. 5 Internet radio panel discussion about the potential implications of the Review of U.S. Human Space Flight Plans Committee report.
The discussion on can be accessed via podcast on The Space Show website by clicking here.
The American Institute of Aeronautics and Astronautics (AIAA) hosted the panel, which comprised, in addition to Pulham:
Frank Culbertson: Former NASA astronaut who completed three space shuttle missions, and managed NASA's "Shuttle-Mir" program, overseeing nine dockings of the shuttle with the former Russian space station. Culbertson is now vice president of business development at Orbital Sciences Corporation.
Scott "Doc" Horowitz: Former NASA astronaut who completed four space shuttle missions and served as NASA's associate administrator for the Exploration Systems Mission Directorate. Horowitz also held a senior executive position with ATK Thiokol, the makers of the space shuttle solid rocket boosters.
John Klineberg: Former director of both the NASA John H. Glenn Research Center in Cleveland, Ohio, and the NASA Goddard Space Flight Center in Greenbelt, Md., and former CEO of Loral Space Systems.
Jim Muncy: President and founder of PoliSpace, an independent space policy consultancy, and former staff member for the U.S. House of Representatives Science Committee's Space and Aeronautics Subcommittee. A long-time leader in the space advocacy community, Muncy held a number of legislative and advisiory positions, as well as co-founding the Space Frontier Foundation in 1988 and serving as its chairman of the board for six years.
The panel discussed the possible future direction of the U.S. space program, as well as the immediate steps NASA might take in fiscal year 2010.
AIAA is the world's largest technical society dedicated to the global aerospace profession. With more than 36,000 individual members worldwide, and 92 corporate members, AIAA brings together industry, academia, and government to advance engineering and science in aviation, space, and defense. For more information, visit www.aiaa.org.
This article is part of Space Watch: October 2009 (Volume: 8, Issue: 10).
---
Posted in Report from Headquarters