Report from Headquarters
---
Astronaut Jim Reilly Visits Swigert Academy
Written by: developer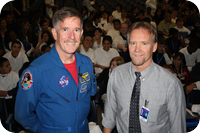 What does it feel like to travel in space? That's what students at the Jack Swigert Aerospace Academy in Colorado Springs, Colo., wanted to know when astronaut James F. Reilly, II, Ph.D., visited the school in October. Reilly, a Colorado Springs resident and former NASA astronaut, spoke about his three Space Shuttle missions and answered students' questions, mostly about the physical experience of weightlessness.
"The sensation is like being in water," explained Reilly. He described the comfort of sleeping in a floating state of weightlessness, the surprisingly dramatic views of Earth from space, and his disorientation after returning to Earth's gravity.
Reilly, who was in his forties before being accepted into NASA's astronaut program after repeated attempts, advised the students to be persistent in pursuing their dreams and to constantly gain new skills.
"Make yourself better all the time," he advised. "The secret to being happy in life is doing work you like."
After narrating a video from one of his Shuttle missions, Reilly said, "The Space Shuttle was my experience in space, what's coming for your generation?"
According to Reilly, the middle school students can look forward to manned flight to the Moon and to Mars. He explained why robotic exploration is no substitute for sending people into space to capture the human experience and to use senses and judgment that can't be duplicated by machinery.
During his time at NASA, Reilly worked on systems development, materials and vehicle engineering, and human factors projects for both the International Space Station and the Space Shuttle. Reilly flew on STS-89 in 1998, STS-104 in 2001, and STS-117 in 2007. He logged more than 853 hours in space, including five spacewalks totaling 31 hours and 10 minutes. He has more than 2,000 hours of high-performance flight time in various NASA aircraft. Reilly has a master's degree in geosciences and a doctorate in geosciences, both from the University of Texas-Dallas. He retired from NASA in May 2008.
The Jack Swigert Aerospace Academy is an aerospace-themed middle school created through a partnership between the Space Foundation and Colorado Springs School District 11 (D-11). It opened this year with more than 500 students and onsite support from the Space Foundation.
The curriculum, which is collaboratively developed by the Space Foundation and D-11, uses space and aerospace themes and principles to teach a broad range of subjects, with focus on improving students' proficiency in science, technology, engineering, the arts, and mathematics (STEAM).
This article is part of Space Watch: November 2009 (Volume: 8, Issue: 11).
---
Posted in Report from Headquarters