Report from Headquarters
---
Partnership Leads to The Final Frontier
Written by: developer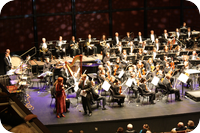 The Space Foundation sponsored an evening of space-themed music Oct. 17, highlighting the talents of southern Colorado's premier professional symphony orchestra. The Colorado Springs Philharmonic, under the direction of Thomas Wilson, performed music from popular space motion pictures, ranging from "Armageddon" to "Alien" to "Predator."
The Final Frontier concert grew out of a partnership forged during the Space Foundation's 25th National Space Symposium last spring at The Broadmoor Hotel in Colorado Springs, where the Philharmonic performed for the opening ceremony. The 26th National Space Symposium will be held April 12–15, 2010, at The Broadmoor Hotel.
A group of Colorado Springs School District 11 (D-11) students from the Jack Swigert Aerospace Academy and Mitchell High School were guests of the Space Foundation for The Final Frontier. Student involvement in the concert underscores the Space Foundation's Space Across the Curriculum approach to education that incorporates space-related lessons and principles across all topic areas, including the arts. Jack Swigert Aerospace Academy, which was created through a partnership between the Space Foundation and D-11, uses this concept to build student proficiency in science, technology, engineering, the arts, and mathematics (STEAM). The Swigert Academy is aligned with Mitchell High School, where the Space Foundation has collaborated with the orchestra classes on space-themed music lessons.
"Both music and space have an extraordinary ability to move and inspire people. Putting the two together creates a powerful and emotional experience," said Space Foundation Chief Executive Officer Elliot Pulham. "The Space Foundation is proud that we were able to give the people of Colorado Springs – especially the students – the opportunity to hear one of the finest professional symphonies in the country performing such an exhilarating program."
"The Space Foundation is a tremendous resource for Colorado Springs," said Nathan Newbrough, Colorado Springs Philharmonic president and CEO. "Through their partnership with regional organizations, they make our community a richer place to live."
The concert will be rebroadcast on Colorado Springs radio station KCME-FM (88.7) in high definition radio at 8:00 p.m. on Monday, Aug. 2, 2010. Program host, annotator, and teacher Michael Campion will supplement the concert with information about the music and the performers.
This article is part of Space Watch: November 2009 (Volume: 8, Issue: 11).
---
Posted in Report from Headquarters