Report from Headquarters
---
Collaboration Improves Intelligence
Written by: developer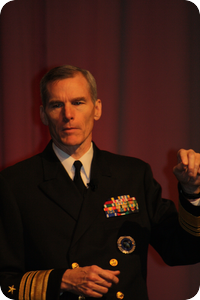 Featured Strategic Space Symposium speaker Vice Adm. Robert B. Murrett, director of the National Geospatial-Intelligence Agency, said that many levels of collaboration - interagency, commercial/government, and international - have improved his agency's ability to support operational needs. He credited much of the advancement to arrangements with both commercial and international space providers that increase capacity and improve flexibility and adaptability.
In outlining critical success factors for geospatial intelligence, Murrett named six objectives:
Balance warfight and critical long-term mission requirements
Move to an integrated, sensor-neutral architecture
Expand intelligence community, Department of Defense, and industry engagement
Retain and deepen workforce expertise
Accelerate forward-based geospatial-intelligence with community partners
Sustain consistent research and development investment to include space capabilities
For more on Murrett's remarks, click here.
To read more about the Strategic Space Symposium, read the articles in this issue of Space Watch.
This article is part of Space Watch: December 2009 (Volume: 8, Issue: 12).
---
Posted in Report from Headquarters