Report from Headquarters
---
Voice of the Commander
Written by: developer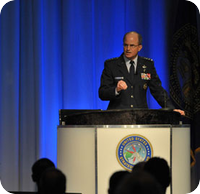 Featured speaker and Strategic Space Symposium co-host* Gen. Kevin P. Chilton, USAF, commander, United States Strategic Command, set the tone for the Symposium with his "wish list" for space:
Improved space situational awareness through more data from better sensors, more tools to fuse the data, more displays to make decisions based upon the data, and better intelligence support and expertise to analyze the data.
Move away from managing gaps to building robustness in launch and acquisition capabilities and strategies.
New tools that allow troops to exercise, experiment, and practice so that they are always ready to protect our assets.
To read more about Gen. Chilton's complete remarks, click here.
To read more about the Strategic Space Symposium, read the articles in this issue of Space Watch.
Photo courtesy of the United States Strategic Command.
*Along with co-host Elliot Pulham, chief executive officer for the Space Foundation.
This article is part of Space Watch: December 2009 (Volume: 8, Issue: 12).
---
Posted in Report from Headquarters