Report from Washington, D.C.
---
Report from Washington
Written by: developer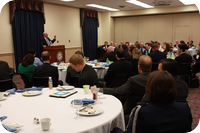 On Dec. 8, the Space Foundation and the National Defense Industrial Association (NDIA) held a Space Power Lecture breakfast (pictured) featuring Norman Augustine, retired Lockheed Martin chairman and chief executive officer and head of the Future of U.S. Human Spaceflight Plans Committee. Augustine addressed the challenges that lie ahead for the United States as a space power, including aligning budget with policy and confronting organizational challenges at NASA. He frequently mentioned that education is key to the United States' future in space, and its impact on the nation's future military space program. See more details in this issue of Space Watch. 
The December House of Representatives schedule for space-related issues was fast-paced. Congresswoman Gabrielle Giffords (D-AZ) and her staff on the Space and Aeronautics Subcommittee of the House Committee on Science and Technology led the way with hearings on safety in human spaceflight, NASA's 2009 audit, and the future of the U.S. aerospace workforce and industrial base. See more details in this issue of Space Watch.
The Aviation Subcommittee of the House Committee on Transportation and Infrastructure convened a hearing on commercial space transportation, which provided members with an update on the industry's activities over the past four years. Also, the Subcommittee on Terrorism, Nonproliferation and Trade of the House Committee on Foreign Affairs reviewed the strategic and economic issues related to aerospace exports. See more details in this issue of Space Watch.
In legislation, the House of Representatives passed H.R. 3570, the Satellite Home Viewer Reauthorization Act of 2009, on Dec. 3. Every five years, Congress must decide whether or not to renew legislation that regulates the reception of television programming from satellites. During the floor debate on Dec. 2, Representative John Conyers (D-MI) put the importance of this legislation into context, "we must have this reauthorized without delay to avoid the immediate loss of service to tens of thousands of satellite consumers." Currently, H.R. 3570 is awaiting action in the Senate Judiciary Committee.
On Dec. 10, the House of Representatives passed the Consolidated Appropriations bill, H.R. 3288, that includes the Commerce, Justice and Science appropriations bill that funds NASA and NOAA. Under the bill, NASA and NOAA will receive increased funding above 2009 levels. NASA will receive $18.7 billion for FY2010, with $3.8 billion directed towards space exploration. The bill also includes language declaring that any change to the current Constellation program must first get the approval from Congress. NOAA will receive $4.7 billion for FY2010. The bill was approved by the Senate on Dec. 14 and signed by President Obama Dec. 16. It is now known as Public Law (P.L.) 111-117.
On Dec. 19, President Obama signed into law the FY2010 Department of Defense Appropriations Act, P.L. 111-118. On Dec. 28, President Obama signed legislation that will extend federal liability protection for commercial space launch providers against catastrophic events through 2012.
On Dec. 14, Rep. Bart Gordon (D-TN), chairman of the Science and Technology Committee, announced he will not seek reelection in 2010. Also, on Dec. 22, Representative Parker Griffith (R-AL), member of the Science and Technology Committee announced his switch from the Democratic caucus to the Republican caucus.
This article is part of Space Watch: January 2010 (Volume: 9, Issue: 1).
---
Posted in Report from Washington, D.C.