Space Foundation Press Releases
---
Space Foundation Cyber 1.0 Conference to Explore Strategic and Tactical Aspects of Cyberspace
Written by: developer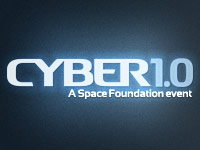 COLORADO SPRINGS, Colo. (Jan. 19, 2010) — The Space Foundation's Cyber 1.0 Conference, an important new event that addresses the Air Force Space Command (AFSPC)'s newly acquired cyberspace mission, will be held April 12 at The Broadmoor Hotel in Colorado Springs, Colo.
Conducted by the Space Foundation, Cyber 1.0 will feature presentations by senior AFSPC and industry leaders, interactive displays, a policy-focused luncheon, and networking opportunities.
Registration for the limited-seating event is now open. Although 26th National Space Symposium registration is not a requirement for attending Cyber 1.0, Symposium registrants will receive a $100 discount off the $395 Cyber 1.0 fee. For information about package pricing, military rates, and how to sign up, go to www.NationalSpaceSymposium.org/Register.
Cyber 1.0 Agenda
The Cyber 1.0 agenda includes:
A "cyber reality" discussion that explores the pervasive influence of the cyber domain on myriad aspects of modern life;
A look at cyberspace from a Department of Defense perspective;
A detailed overview of the 24th Air Force cyberspace mission, including presentations from the 24th Air Force, the 688th Information Operations Wing, the 67th Network Warfare Wing, and the 689th Combat Communications Wing;
Interactive demonstrations from AFSPC Command Units and commercial cyberspace providers;
A detailed discussion of cyber acquisition policies and procedures; and
The Cyber 1.0 Luncheon, sponsored by General Dynamics, which looks at the domain from a policy perspective.
Cyber 1.0 confirmed speakers include:
Additional military, government, and industry speakers will be announced as they are confirmed.
What is Cyberspace?
Cyberspace is the modulation of electromagnetic energy to achieve a wide range of communication and control system capabilities. It integrates sensors, signals, connections, transmissions, processors, and controllers to create an interdependent network of information technology infrastructures and telecommunications networks. From a military perspective, cyberspace is a domain for both strategic and tactical operations characterized by the use of electronics and the electromagnetic spectrum to store, modify, and exchange data via networked systems and associated physical infrastructures. Cyberspace is not a mission; it is a place where the full range of missions is conducted. The term cyberspace was coined by the science fiction author William Gibson in his 1982 story "Burning Chrome" and popularized by his 1984 novel Neuromancer.
About the 26th National Space Symposium
More than 8,000 attendees, exhibitors, sponsors, and speakers are expected at the 26th National Space Symposium, which offers workshops, forums, panels, and presentations covering all aspects of space and is known as an extraordinary venue for networking and conducting meaningful business. In addition to the mainstream program, the Symposium includes presentation of prestigious space awards, a spectacular opening ceremony, engaging programs for selected teachers and students, and the extensive AMERICOM Government Services (AGS) Exhibit Center. In addition to Cyber 1.0, this year's event also offers greatly expanded programs for young, up-and-coming "new generation" space professionals.
Online registration and more information, including agenda, speakers, and exhibitors, are available at www.NationalSpaceSymposium.org.
About the Space Foundation
The Space Foundation is an international, nonprofit organization and the foremost advocate for all sectors of the space industry – civil, commercial, military and intelligence. Founded in 1983, the Space Foundation is a leader in space awareness activities, educational programs that bring space into the classroom, and major industry events, all in support of its mission "to advance space-related endeavors to inspire, enable, and propel humanity." An expert in all aspects of the global space industry, the Space Foundation publishes The Space Report: The Authoritative Guide to Global Space Activity and provides three indices that track daily performance of the space industry. Through its Space Certification and Space Technology Hall of Fame programs, the Space Foundation recognizes space-based technologies and innovations that have been adapted to improve life on Earth. Headquartered in Colorado Springs, the Space Foundation conducts research and analysis and government affairs activities from its Washington, D.C., office and has field representatives in Houston, Texas, and Cape Canaveral, Fla. For more information, visit www.SpaceFoundation.org. Follow us on Twitter, Facebook, and LinkedIn, and read about the latest space news and Space Foundation activities in Space Watch.
###
 
---
Posted in Space Foundation Press Releases