Report from Headquarters
---
Lawrence Lecture Inspires Girls
Written by: developer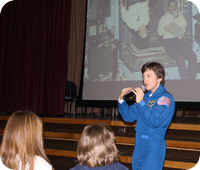 In January, the Space Foundation brought former astronaut and Navy captain Wendy B. Lawrence to Colorado Springs to speak to all-girl audiences at several local schools, part of an outreach effort to inspire girls' interest in science, technology, engineering, and math (STEM).
CAPT Lawrence spoke to girls at Jack Swigert Aerospace Academy, Galilio School of Math and Science, Manitou School, and The Classical Academy. STEM presentations were given to male students at the schools by Steve Williams of RT Logic, and Brian Sanders of the Colorado Space Grant.
Explaining why she wanted to travel to from Seattle to speak to local schools, Lawrence said, "I like talking to school-age kids. My message is for them to stay in school. That's how their dreams will come true."
Another key to success, according to Lawrence, is "surrounding yourself with people who help you toward your dream. A true friend won't hold you back.
"As a child, I'm glad my mother had me watch the Apollo 11 moon landing because that was my 'ah-ha' moment. That's when I knew I wanted to be an astronaut. I worked very hard to pursue my dream, but it was all worth it the first time I looked out the window of the Space Shuttle and saw Earth from space. It was an emotional moment realizing I had achieved my dream."
Speaking to her all-girl audience at the Jack Swigert Aerospace Academy, Lawrence emphasized "you can make your dream come true. If I could do it, you can do it."
Lawrence graduated from the United States Naval Academy in 1981 and was designated as a naval aviator in 1982. Lawrence has more than 1,500 hours flight time in six different types of helicopters and has made more than 800 shipboard landings. While stationed at Helicopter Combat Support Squadron SIX (HC-6), she was one of the first two female helicopter pilots to make a long deployment to the Indian Ocean as part of a carrier battle group. After completion of a master's degree program at the Massachusetts Institute of Technology and Woods Hole Oceanographic Institute in 1988, she was assigned to Helicopter Anti-Submarine Squadron Light THIRTY (HSL-30) as officer-in-charge of Detachment ALFA.
Her spaceflight experience includes: STS-67 Endeavour (March 2-18, 1995); STS-86 Atlantis (Sept. 25-Oct. 6, 1997); STS-91 Discovery (June 2-12, 1998); STS-114 Discovery (July 26-Aug. 9, 2005). Lawrence retired from NASA in 2006. Currently, she is an adjunct professor in the School of Science and Technology at the American Public University System.
Lawrence emphasized the importance of investing in the future of the U.S. space program, "there is not a day in our lives when we don't use space-based technology."
She also said collaboration will be essential to future space exploration "and we now have a model for international cooperation to share the cost of space travel."
During her visit, Lawrence met with a group of 25 pre-school teachers enrolled in the Space Foundation PreK-2 pilot program and with Space Foundation Teacher Liaisons, educators who are selected by the Space Foundation to act as advocates for space science education.
Pictured: Former astronaut Wendy B. Lawrence speaking to students at the Jack Swigert Aerospace Academy in Colorado Springs.
This article is part of Space Watch: Februrary 2010 (Volume: 9, Issue: 2).
---
Posted in Report from Headquarters