Report from Headquarters
---
Moorman Named Director Emeritus
Written by: developer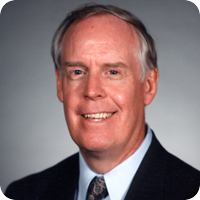 Outgoing Space Foundation Chairman Gen Thomas S. Moorman, USAF (Retired), has been made a lifetime director emeritus of the Space Foundation. The former vice chief of staff of the United States Air Force served on the Space Foundation Board from 1997-2010. he served as secretary from 2004-2006, as vice chairman from 2006-2008, and as chairman of the Board from 2008-2010.
Moorman recently retired as a partner with Booz Allen Hamilton, where he headed their Air Force and National Aeronautics and Space Administration business, the firm's cyber business, and established and led the Space Campaign. Previously, Moorman was the vice chief of staff of the Air Force and commander of Air Force Space Command. He earned a Bachelor of Arts degree from Dartmouth College, a master's degree in business administration from Western New England College, and a master's degree in political science from Auburn University. His honorary degrees include a doctorate in management from Colorado Tech, and a Doctor of Laws from Clemson University.
"Tom supported the mission of the Space Foundation with deep conviction and through leadership by example, serving at many public and private venues as a speaker, moderator, presenter, and facilitator," said Space Foundation Chief Executive Officer Elliot Pulham. "We are grateful for the the significant time and resources he has contributed toward the success of the Space Foundation."
A resolution presented to Moorman at the Space Foundation's annual Board meeting in January lauded the outgoing chairman for his career contributions to the advancement of space and his high-profile participation in important, space-related national endeavors – such as his role on the Commission to Assess United States National Security Space Management and Organization – which have advanced the mission of the Space Foundation while affording the organization greater visibility on the national and international stage.
This article is part of Space Watch: Februrary 2010 (Volume: 9, Issue: 2).
---
Posted in Report from Headquarters