Report from Headquarters
---
Space Foundation Presents at SEEC
Written by: developer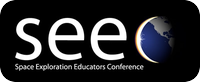 The Space Foundation's four aerospace education specialists recently conducted workshops at the 16th annual Space Exploration Educators Conference (SEEC) in Houston. Nearly 800 educators from around the world attended the three-day event, held Feb. 4-6 at Space Center Houston.
The Space Foundation team presented two workshops, one on using measurement and scale to determine the size of features in space photographs, and one on introduction to nanotechnology activities for the classroom, such as how nanotechnology is used to make stain-resistant clothing.
Instructors Bryan DeBates and Allison Benjamin conducted a workshop for more than 50 teachers focusing on 3rd-8th grade math using photographs from the Mars Reconnaissance Orbiter. Photographs from the orbiter were used along with scaled measurements to determine the size of features in the photographs, such as the Mars Exploration Rover, Opportunity, Victoria Crater, and a massive rock slide in a canyon.
Instructors Bobby Gagnon and Melissa Peterson taught more than 40 teachers how nanotechnology is used every day, how it benefits life on Earth, and how it impacts the future of space exploration.
The 16th annual Space Exploration Educators Conference featured keynote speaker Dr. Sally Ride, former astronaut and president and chief executive officer of Sally Ride Science. Every February, Space Center Houston hosts the annual conference, which is open to all K-12 educators. The three-day conference workshops are conducted by education experts from around the world, scientists and engineers from the Johnson Space Center, and astronauts leading the charge of exploration. The workshops feature the latest in space education activities for the classroom, tours of the Johnson Space Center, including the Neutral Buoyancy Lab, the robotics lab, Mission Control Center, and special underwater microgravity classes.
For more information of the Space Foundation's education programs, click here.
 
This article is part of Space Watch: March 2010 (Volume: 9, Issue: 3).
---
Posted in Report from Headquarters