Report from Headquarters
---
SF Board Members Named to Astronaut Hall of Fame
Written by: developer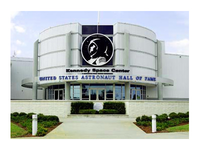 The Astronaut Scholarship Foundation will welcome four inductees into the U.S. Astronaut Hall of Fame® at a ceremony this June at Kennedy Space Center Visitor Complex in Titusville, Fla., including:
Kathryn Thornton, Ph.D., who was recently elected to the Space Foundation Board of Directors
Guion S. Bluford, Jr., Ph.D., who is a Life Director for the Space Foundation
About Thornton
Elected to the Space Foundation Board of Directors in January, Kathy Thornton flew four space shuttle missions during her 12 years in the NASA Astronaut Corps, from May 1984 through August 1996. During her second flight, she served as mission specialist throughout the first and only three-person extra-vehicular activitiy (EVA – also known as a space walk) in May 1992. Thornton first flew as mission specialist aboard the Department of Defense (DoD) STS-33 mission in November 1989, and again in 1992 aboard the maiden flight of Space Shuttle Endeavour, STS-49. In December 1993, she served as mission specialist aboard the first Hubble Space Telescope (HST) repair mission, STS-61, alongside fellow 2010 inductee Kenneth Bowersox. Thornton partnered with Tom Akers on two EVAs to replace the solar arrays, install corrective optics and add additional computer memory. From Oct. 20 to Nov. 5, 1995, Thornton also served aboard Space Shuttle Columbia on STS-73 as the payload commander of the second U.S. Microgravity Laboratory mission. In 2008, Thornton became director of the University of Virginia's Center for Science, Mathematics and Engineering Education.
About Bluford
Guy Bluford, president of Aerospace Technology Group, is a Space Foundation Life Director. He was the first African American to fly in space and, during his 15 years in the Astronaut Program, he flew on four Space Shuttle missions. As a mission specialist and flight engineer aboard STS-8, the first night launch and landing of the Space Shuttle, he assisted the commander and pilot in developing techniques for night time operations. In 1985, Bluford was a mission specialist on STS-61A, and led the international on-orbit payload team in the training and on-orbit operations of 76 experiments in the German D-1 Spacelab. In 1991, Bluford flew on STS-39, managing the operation of several experiments in support of the DoD Strategic Defense Initiative Office and then flew in 1992 on STS-53, a classified Space Shuttle flight. Bluford was elected to the Space Foundation Board of Directors in 2000 and re-elected for a second term to serve until 2007. He was name a Life Director in January 2007.
The other two astronauts being inducted into the Astronaut Hall of Fame® this June are:
Capt. Kenneth D. Bowersox, USN (Retired), a five-time Space Shuttle astronaut who piloted the precedent-setting mission to the crippled HST in December 1993, STS-61, capturing and restoring it to full capability through a record five space walks.
Capt. Frank L. Culbertson, Jr., USN (Retired), joined the Astronaut Corps in May 1984 and flew three Space Shuttle missions before leaving the Corps in August 2002.
More than 500 people are expected to attend the ceremony, hosted by Apollo 15 astronaut Al Worden.  
The six surviving Mercury 7 astronauts first developed the idea for a hall of fame in the 1980s as an astronaut memorial. The actual Hall of Fame opened in the 1990s and now houses the world's largest collection of personal astronaut memorabilia
Located in Titusville, Fla., the U.S. Astronaut Hall of Fame® is now part of the Kennedy Space Center Visitor Complex (KSCVC). Under an agreement with KSCVC, the Astronaut Scholarship Foundation (ASF) serves as a consultant in the operation of the Hall, supervising the selection, by an outside committee, of astronauts for enshrinement in the Hall of Fame, obtaining personal artifacts for display in the museum, and participating in induction ceremonies. For more information, click here.
The AMF also collaborates with the Space Foundation and NASA on selection of the Alan Shepard Technology in Education Award, which is being presented to Tennessee teacher Allen V. Robnett at the Opening Ceremony of the 26th National Space Symposium.
 
This article is part of Space Watch: April 2010 (Volume: 9, Issue: 4).
---
Posted in Report from Headquarters