Report from Headquarters
---
Space Foundation Hosts ISU EMBA Module
Written by: developer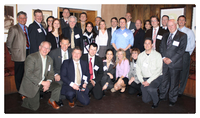 Eleven students representing 11 different nations spent two weeks in Colorado Springs last month working on one of the rarest college degrees you can get: an Executive Master of Business Administration focused on the space industry. The Space Foundation served as the local host  for the students, who are all pursuing the highly specialized degree from the International Space University (ISU), based in Strasbourg, France.
Tthe new Executive MBA is a hybrid between an MBA and a Master of Public Administration degree, reflecting the realities of the space sector. The 18-month program merges the coursework of a traditional MBA with space applications and public administration coursework. It includes both distance learning and four two-week residential "modules," including the March unit on project management.
The first module, conducted last June at ISU's central campus in Strasbourg, provided financial, economic, and legal baseline concepts and a technical and organizational overview of the space sector. The second session, held in cooperation with the International Business School on the Isle of Man (a crown dependency of the British Monarchy), completed intensive work in finance, law, accounting, marketing, public procurement, operations management, space business, and economics, including risk management and insurance.
The Colorado Springs session covered cost engineering, human resources, project management, and system management. The instructors and lecturers, who were arranged for by both ISU and the Space Foundation, included space experts from the United States Air Force Academy, Air Force Space Command, the National Oceanic and Atmospheric Administration (NOAA), and Colorado-based commercial space business units.
Between modules, the students work on online projects and case studies. They will return to the U.S. this June for sessions on international space law, trade policy, aerospace economics, entrepreneurship and innovation, and international relations and negotiations at the Space Policy Institute of George Washington University in Washington, D.C. Finally, in November, they will complete a case study in Luxembourg and then defend their theses in a final session at ISU's central campus in France, where they are expected to complete their degrees.
The students, mainly mid-career space professionals, come from a variety of backgrounds and employers, including large aerospace companies, government space agencies, small- and medium-size space-related organizations, and consulting firms. The Space Foundation's Vice President, Education, Iain Probert is the sole U.S. participant in a group that includes students from Canada, Luxembourg, France, Germany, Italy, the Netherlands, South Africa, Spain, Switzerland, and the Isle of Man.
"This course embodies the International Space University's educational philosophy," said ISU associate professor of economics and policy and Executive MBA program leader Vasilis Zervos. "It's interdisciplinary, international, and intercultural."
Zervos said the program provides students with the "multi-dimensional perspective vital for understanding and effectively dealing with complex space development and utilization issues" and that intensive teamwork practices prepare students to compete and collaborate in the multicultural environment of today's world space community.
Space Foundation's Colorado Springs Experience Includes Exposure to Colorado Space Community and Local Culture
ISU selected Colorado Springs as a module location because of the proximity to commercial, military, and civil space businesses, and because of its long-term relationship with the Space Foundation. In addition to the aggressive six-days-a-week class schedule, the students participated in several events organized by the Space Foundation: a "Colorado Culture" dinner with local community leaders; tours of the NOAA facility in Boulder and the Denver "Waterton Plant" Lockheed Martin facility; and a dinner with the Colorado Space Business Roundtable, the Colorado Space Coalition, Colorado space business leaders, and Space Foundation executives.
About ISU
ISU provides graduate-level training to the future leaders of the emerging global space community at its Central Campus in Strasbourg, France, and at locations around the world. In its two-month Space Studies Program and one-year masters program, ISU offers its students a unique core curriculum covering all disciplines related to space programs and enterprises – space science, space engineering, systems engineering, space policy and law, business and management, and space and society. Both programs also involve an intense student research team project providing international graduate students and young space professionals the opportunity to solve complex problems by working together in an intercultural environment. Since its founding in 1987, ISU has graduated more than 2,900 students from 100 countries. Together with hundreds of ISU faculty and lecturers from around the world, ISU alumni comprise an extremely effective network of space professionals and leaders that actively facilitates individual career growth, professional activities, and international space cooperation. For more information on ISU, go to www.isunet.edu.
ISU is sponsoring this year's official 26th National Space Symposium poster, designed by Space Foundation artist Paul parson. The Symposium will be held April 12-15 at The Broadmoor Hotel in Colorado Springs.
Pictured: ISU Executive MBA students, Colorado space industry leaders, and representatives of the Colorado Space Coalition, the Colorado Space Business Roundtable, and the Space Foundation gather at a dinner in Denver.  
This article is part of Space Watch: April 2010 (Volume: 9, Issue: 4).
---
Posted in Report from Headquarters