Report from Headquarters
---
The Space Report 2010 Now Available for Pre-Order
Written by: developer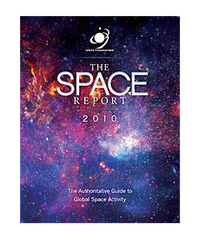 A complete guide to all sectors of the global space industry, the Space Foundation's The Space Report 2010: The Authoritative Guide to Global Space Activity is now available for pre-order in multiple formats:
• Hard Copy for $79.95
• Compact Disk for $79.95
• e-Book in PDF format for $69.95
• Both a Hard Copy and a Compact Disk for $127.95
The Space Report 2010 is the definitive overview of the global space industry and serves as a valuable resource for government and business leaders, educators, financial analysts, students, and space-related businesses. To shop for the right version, go to www.TheSpaceReport.org/store/.
Attendees of the 26th National Space Symposium will receive a copy of The Space Report 2010 as a gift of the Space Foundation.
The result of extensive research by the Space Foundation's Research and Analysis enterprise, The Space Report 2010 thoroughly examines and analyzes the state of the space industry. Covering primarily 2009 data, it contains
• A comprehensive high-level overview of the space industry including 2009 highlights
• Data on global space budgets and revenues
• Overviews of space infrastructure and space products and services
• A section examining workforce and education trends
• Greatly expanded data on international (non-U.S.) space activities
• A special report on astronomy and space science
• New information on spaceports and spaceport authorities/coalitions
• A discussion of the outlook for the industry
The methodology, which is refined every year, involves identifying, gathering, analyzing, and synthesizing data from publicly available sources, as well as industry publications and reports. More information is available here.
 
This article is part of Space Watch: April 2010 (Volume: 9, Issue: 4).
---
Posted in Report from Headquarters