Report from Headquarters
---
Space Foundation Thanks Symposium Sponsors
Written by: developer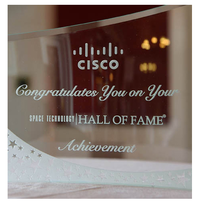 The 26th National Space Symposium was made possible through the generous support of corporate sponsors, which, in turn, benefited greatly from the exposure they got to the most influential space audience anywhere. The Space Foundation deeply appreciates the 2010 sponsors, which are listed below.
Companies interested in sponsoring events, activities, services, or items at the 27th National Space Symposium, April 11-14, 2011, should contact [email protected].
Pictured: Cisco Systems, Inc., sponsored the Space Technology Hall of Fame® Private Induction Ceremony at the 26th National Space Symposium
This article is part of Space Watch: May 2010 (Volume: 9, Issue: 5).
---
Posted in Report from Headquarters