Report from Headquarters
---
Volunteers Valuable to Symposium
Written by: developer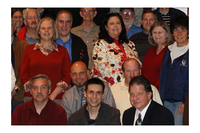 The National Space Symposium is the premier gathering of the global space industry and one reason it's so special is the support and hard work of a team of 250 volunteers. These extraordinary people donated hours of their time to assist Symposium staff and attendees in various capacities, from helping with registration to staffing the media center to assisting with logistics for the more almost 100 speakers appearing on the agenda.
"The Symposium is a force of nature," said Space Foundation CEO Elliot Pulham, "and something we couldn't do without our volunteers. I'm delighted with the support we receive from the community, from local military bases, and even from some who travel from out of state to help out."
Every year the Space Foundation accepts volunteer applications through the National Space Symposium website (www.NationalSpaceSymposium.org), starting about two to three months before the event.
Pictured: Some of this year's volunteers for the 26th National Space Symposium
This article is part of Space Watch: May 2010 (Volume: 9, Issue: 5).
---
Posted in Report from Headquarters