Report from Headquarters
---
Team Members Aim High
Written by: developer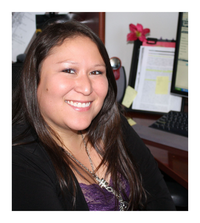 Bernadette Sormani, who was recently promoted to Space Foundation Senior Customer Service Associate, has completed "Through the Customer's Eyes" training and is now Customer Service Certified.
Certification is based on professional experience combined with six interactive training modules that address key competency areas and core skills necessary for delivery of world-class customer service, including:
Why Customer Service Matters
What Customers Want
Essential Customer Service Skills
Handling Complaints and Dealing With Angry People
Customer Service as a Strategic Marketing Tool
Customer Service Teams
Being Customer Service Certified distinguishes Sormani as a customer service professional who has demonstrated her experience and skill, as well as her heartfelt knowledge that every customer contact is critical to the success of the Space Foundation.
Among her other responsibilities, Sormani oversees registration for the annual National Space Symposium. She has worked for the Space Foundation for two years and received a bachelor's degree in English from the University of Colorado at Colorado Springs.
This article is part of Space Watch: September 2010 (Volume: 9, Issue: 9).
---
Posted in Report from Headquarters