Space Foundation Press Releases
---
Space Foundation Promotes STEM at USA Science & Engineering Festival
Written by: developer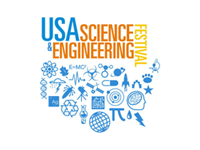 COLORADO SPRINGS, Colo. (Oct. 20, 2010) — The Space Foundation is demonstrating how astronauts conduct experiments on the International Space Station and the Space Shuttle Oct. 23-24 at the inaugural USA Science & Engineering Festival in Washington, D.C. Using gloveboxes similar to the ones used in space to prevent experiments from floating away and to keep scientists and astronauts safe, the Space Foundation will let attendees experience firsthand what it is like to conduct scientific studies using circuits, robotic arms and heavy space gloves. The demonstrations, manned by Space Foundation space education specialists, are being presented in conjunction with the National Security Space Office.
"Space Foundation programs excite and amaze thousands of K-12 students and their parents, grandparents and guardians every year," said Space Foundation Vice President – Education Iain Probert. "The USA Science & Engineering Festival can expand that reach to thousands in just two days. We're excited to be there."
The USA Science & Engineering Festival, hosted by Lockheed Martin, is the country's first national science festival. It opened Oct. 10 with a concert of science songs performed by more than 200 children and adults at the University of Maryland. The culmination is the two-day Expo on the National Mall Oct. 23-24 that will feature more than 500 science and engineering organizations from across the United States presenting hands-on, fun science activities to inspire the next generation of scientists and engineers.
The festival will feature more than 1,500 interactive exhibits and activities such as building an underwater robot, simulating cargo management on the Space Shuttle, learning the science behind Hollywood movies, as well as 50 stage shows, including comedians, science magicians and musicians.
Visit the official Festival website to see exhibit and stage show information, download a map of the Expo grounds and view the Festival Calendar at www.usasciencefestival.org.
About the Space Foundation
The Space Foundation is a global, nonprofit organization and the foremost advocate for all sectors of the space industry – civil, commercial, military and intelligence. Founded in 1983, the Space Foundation is a leader in space awareness activities, educational programs that bring space into the classroom, and major industry events, including the National Space Symposium, all in support of its mission "to advance space-related endeavors to inspire, enable, and propel humanity." An expert in all aspects of the global space industry, the Space Foundation publishes The Space Report: The Authoritative Guide to Global Space Activity and provides three indices that track daily performance of the space industry. Through its Space Certification and Space Technology Hall of Fame® programs, the Space Foundation recognizes space-based technologies and innovations that have been adapted to improve life on Earth. Headquartered in Colorado Springs, the Space Foundation conducts research and analysis and government affairs activities from its Washington, D.C., office and has field representatives in Houston, Texas, and Cape Canaveral, Fla. For more information, visit www.SpaceFoundation.org. Follow us on Twitter, Facebook and LinkedIn, and read about the latest space news and Space Foundation activities in Space Watch.
# # #
---
Posted in Space Foundation Press Releases