Report from Headquarters
---
Students Use Rockets to Study Math
Written by: developer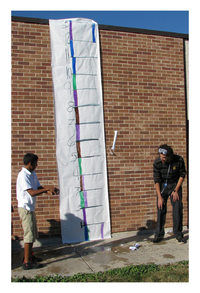 Eighth grade students at the Jack Swigert Aerospace Academy in Colorado Springs are incorporating rockets into their math classes. Swigert Academy math  teacher Andre Paul helped his students launch pop rockets fueled by water and Alka Seltzer tablets. The students then measure the distance of the launches.
The Space Foundation and Colorado Springs School District 11 jointly develop the Academy's national standards-based curriculum and provide teachers with the training and support they need to bring the curriculum to life in the classroom. The inquiry-based hands-on, minds-on teaching approach encourages and inspires students to study technology-based subjects, as well as helping them develop study skills that can be applied across all disciplines. Formal mentoring programs that connect students with aerospace professionals and involvement in Space Foundation programs, such as the National Space Symposium, further strengthen the educational program at the Academy.
Named in honor of Colorado native and Apollo astronaut John L. "Jack" Swigert, the school opened August 2009 with more than 500 students.
The Jack Swigert Aerospace Academy campus is also home to the Space Foundation Discovery Institute – a national professional development center for teachers and an education destination for students – and is home base for the Space Foundation's education team.
The Space Foundation Discovery Institute houses classrooms, the Educator Resource Center, the AGI Space Mission Simulator. In addition to serving Jack Swigert Aerospace Academy teachers and students, the Institute offers programs for educators and students from around the world.
Pictured: Jack Swigert Aerospace Academy math teacher Andre Paul helps his students launch pop rockets fueled by water and Alka Seltzer tablets.
This article is part of Space Watch: November 2010 (Volume: 9, Issue: 11).
---
Posted in Report from Headquarters