Report from Washington, D.C.
---
USA Science & Engineering Festival a Success
Written by: developer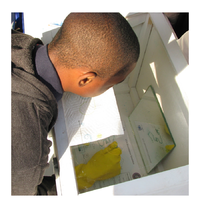 On a beautiful fall weekend in October nearly 200,000 people crowded The National Mall in Washington, D.C. to learn more about science, technology, engineering and math (STEM) education.
The USA Science & Engineering Festival, hosted by Lockheed Martin, was the country's first national science festival. It opened Oct. 10 with a concert of science songs performed by more than 200 children and adults at the University of Maryland. The culmination was the two-day Expo on The National Mall Oct. 23-24 featuring more than 500 science and engineering organizations from across the United States presenting hands-on, fun science activities.
The Space Foundation attended and presented an activity to give students of all grade levels the experience of training like astronauts. Using gloveboxes similar to the ones used in space to prevent experiments from floating away and to keep scientists and astronauts safe, the Space Foundation let attendees experience firsthand what it is like to conduct scientific studies using circuits, robotic arms and heavy space gloves. The demonstrations, manned by Space Foundation space education specialists, were being presented in conjunction with the National Security Space Office NSSO).
"Our joint effort with the Space Foundation provided a wonderful opportunity for thousands of youth and adults to experience the challenges and successes of conducting experiments like astronauts" said Joseph D. Rouge, director of the NSSO. "I personally want to thank the Space Foundation for a job very well done and the NSSO lead, Major Ann Graham, for her great efforts in this endeavor."
Although the glovebox activity was intended for school-age children, the people who lined up to give it a try included preschoolers, parents and grandparents, some still waiting in line after the event closed at 5:30 p.m.
"It was a great learning experience for everyone," said Bryan DeBates, Space Foundation director – education.
For more about Space Foundation support of STEM education, see www.SpaceFoundation.org/education.
Pictured: A student at the USA Science & Engineering Festival in Washington, D.C., tries his hand at the Space Foundation glovebox activity.
This article is part of Space Watch: November 2010 (Volume: 9, Issue: 11).
---
Posted in Report from Washington, D.C.