Space Foundation Press Releases
---
Space Foundation Issues U.S. Congressional Midterm Election Results
Written by: developer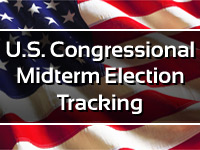 COLORADO SPRINGS, Colo. (Nov. 3, 2010) — Today the Space Foundation issued a comprehensive run-down of election results showing all the members of Congress who have a space-related constituency and/or sit on a committee that has some jurisdiction on space policy. Prepared by the Research and Analysis branch of the Space Foundation based in Washington, D.C., this is a follow-up to a pre-election version issued a few weeks ago.
There are still some races undeclared and the Space Foundation will track those and update as available. Also, the report explains that even though someone replaces a person who sat on a space-related committee, it does not automatically mean they will get the same committee assignment. Those decisions will be made over the coming months and the Space Foundation will track and inform on those decisions as well.
See today's election report in the Research and Analysis section of the Space Foundation website at www.SpaceFoundation.org/research/
About the Space Foundation
The Space Foundation is a global, nonprofit organization and the foremost advocate for all sectors of the space industry – civil, commercial, military and intelligence. Founded in 1983, the Space Foundation is a leader in space awareness activities, educational programs that bring space into the classroom, and major industry events, including the National Space Symposium, all in support of its mission "to advance space-related endeavors to inspire, enable and propel humanity." An expert in all aspects of the global space industry, the Space Foundation publishes The Space Report: The Authoritative Guide to Global Space Activity and provides three indices that track daily performance of the space industry. Through its Space Certification and Space Technology Hall of Fame® programs, the Space Foundation recognizes space-based technologies and innovations that have been adapted to improve life on Earth. Headquartered in Colorado Springs, the Space Foundation conducts research and analysis and government affairs activities from its Washington, D.C., office and has field representatives in Houston, Texas, and Cape Canaveral, Fla. For more information, visit www.SpaceFoundation.org. Follow us on Twitter, Facebook and LinkedIn, and read about the latest space news and Space Foundation activities in Space Watch.
 # # #
---
Posted in Space Foundation Press Releases