Space Foundation Press Releases
---
CEOs Address the Issues at 27th National Space Symposium
Written by: developer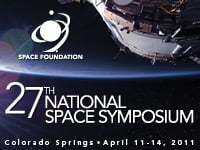 COLORADO SPRINGS, Colo. (Nov. 10, 2010) — The increasing globalization and commercialization of space coupled with dramatic changes in U.S. space policy have created a dynamic and sometimes challenging environment for space businesses. The chief executive officers of four major space companies will address the environment, the issues and the future at the Space Foundation's 27th National Space Symposium next April at The Broadmoor Hotel in Colorado Springs, Colo.
Moderated by Euroconsult CEO and managing director Pacôme Révillon, the CEOs on the Issues panel includes:
Matthew J. Desch, Iridium Communications, Inc.
Jean-Yves Le Gall, Arianespace, Inc. 
David McGlade, Intelsat 
Andrew Sukawaty, Inmarsat
The international nature of this panel reflects the growing emphasis on multinational communication and cooperation for future success in space.
About the Speakers
Pacôme Révillon, based in Paris, has been CEO and managing director of Euroconsult since 2003, leading the company's strategy and operations and consulting with high-level clients, particularly in satellite broadcasting, communications and finance. Before joining Euroconsult, Révillon worked on the design of communication networks at the DLR in Germany and Thales in France.
Matthew Desch is director and chief executive officer of Iridium Communications Inc., which supplies services to the maritime, aviation, defense, emergency response and asset tracking industries, among others. Prior to joining Iridium, Desch served as CEO of Telcordia Technologies, Inc., and was president of Nortel Networks' fast growing Wireless Networks division. Desch began his career in software development with AT&T Bell Laboratories, which became Lucent Technologies.
Jean-Yves Le Gall is chairman and chief executive officer of Arianespace. Le Gall is responsible commercial strategy and for representing Arianespace in relations with European governments, space agencies and industrial partners, as well as the company's shareholders. Le Gall is also chairman and chief executive officer of Starsem, the company's European-Russian subsidiary in charge of operating and marketing the Soyuz launch vehicle. Previously, he held a number of programs and strategy management positions, including with the French Ministry of Industry, Novespace, French space agency CNES, Starsem and Arianespace.
David McGlade is the chief executive officer of Intelsat S.A. During his tenure at Intelsat, he led the company's 2006 acquisition of PanAmSat, a $6.4 billion transaction, which resulted in the creation of the industry's largest satellite operator. McGlade is a 25-year telecommunications and media industry veteran with experience in cable TV, broadband and wireless. Prior to joining Intelsat, he served as CEO of O2 UK, previously BT Cellnet and as president of Sprint PCS' West Region.
Andrew Sukawaty is chairman and chief executive officer of Inmarsat PLC. With more than thirty years of experience in communications service, including telephone, wireless, cable TV and satellite, he was involved in launching some of the first cellular mobile phone systems in the US. Previously, he started a UK mobile operator (now T-Mobile UK); ran NTL Ltd in the UK; and in 1996 returned to the United States to start up Sprint PCS.
About the 27th National Space Symposium
The premier gathering of the global space community, the National Space Symposium offers presentations by industry, government and military space leaders, prestigious space wards, special events and the Boeing Exhibit Center, which will occupy three halls. Returning for 2011 will be the popular cyberspace and new generation events. Cyber 1.1 will be held on Monday, April 11, and requires separate registration. An expanded New Generation Space Leaders program for young, up-and-coming space professionals, age 35 and younger, will be offered throughout the four-day Symposium.
Register Now
Online registration and more information, including agenda, speakers and exhibitors, are available at www.NationalSpaceSymposium.org. Industry attendees who register before Jan. 14, 2011, can save up to $500 with the Super Early Bird rate.
27th National Space Symposium Co-Sponsors
Confirmed co-sponsors of the 27th National Space Symposium include a.i. solutions; Analytical Graphics, Inc. (AGI); ATK; Ball Aerospace & Technologies Corp.; The Boeing Company; Booz Allen Hamilton; Cisco Systems, Inc.; General Dynamics; Integral Systems; International Space University; Lockheed Martin; Northrop Grumman; Pratt & Whitney Rocketdyne; Raytheon; SpaceX; Stellar Solutions; and United Space Alliance. Space News International and Aviation Week are official media partners. Additional sponsorship opportunities are available; interested companies should contact [email protected].
About the Space Foundation
The Space Foundation is a global, nonprofit organization and the foremost advocate for all sectors of the space industry – civil, commercial, military and intelligence. Founded in 1983, the Space Foundation is a leader in space awareness activities, educational programs that bring space into the classroom, and major industry events, including the National Space Symposium, all in support of its mission "to advance space-related endeavors to inspire, enable and propel humanity." An expert in all aspects of the global space industry, the Space Foundation publishes The Space Report: The Authoritative Guide to Global Space Activity and provides three indices that track daily performance of the space industry. Through its Space Certification and Space Technology Hall of Fame® programs, the Space Foundation recognizes space-based technologies and innovations that have been adapted to improve life on Earth. Headquartered in Colorado Springs, the Space Foundation conducts research and analysis and government affairs activities from its Washington, D.C., office and has field representatives in Houston, Texas, and Cape Canaveral, Fla. For more information, visit www.SpaceFoundation.org. Follow us on Twitter, Facebook and LinkedIn, and read about the latest space news and Space Foundation activities in Space Watch.
# # #
---
Posted in Space Foundation Press Releases