Report from Headquarters
---
Stevens Participates in Space Policy Debate
Written by: developer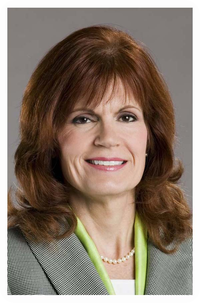 University of Colorado (CU) Students for the Exploration and Development of Space (SEDS) heard experts, including Space Foundation Vice President – Marketing and Communications Janet Stevens, discuss the globalization, commercialization and politicization of space at the third annual CU Space Policy Debate last month in Boulder, Colo.
The debate panel included, in addition to Stevens:
Dennis Ebbets, senior business development manager for Ball Aerospace's Space Science Division
Jonathan Goff, founder of the newly created Altius Space Machines and a founding member and former lead propulsion engineer of Masten Space Systems, winner of NASA's Lunar Lander Challenge
Scott Tibbits, founder of eSpace: The Center of Space Entrepreneurship, a congressionally funded organization that helps emerging space entrepreneurs realize their dreams, and founder Starsys Research Corporation, which was purchased by SpaceDev and then Sierra Nevada Corp.
The group, speaking live and via streaming video to a group of aerospace undergraduate and graduate students, discussed opportunities for space entrepreneurship, privatization and commercialization; the effects of U.S. legislation on global competitiveness; technologies that will enable space growth; the career outlook for students; and the current state of space.
SEDS is an independent, student-based organization that promotes the exploration and development of space through education, programs and networks for students, leadership skill building and involvement in space-related projects. SEDS believes "that focusing the enthusiasm of young people is the key to our future in space."
 
This article is part of Space Watch: December 2010 (Volume: 9, Issue: 12).
---
Posted in Report from Headquarters