Space Foundation Press Releases
---
Influential Space Leadership will be Featured at 27th National Space Symposium
Written by: developer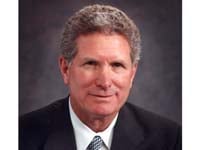 COLORADO SPRINGS, Colo. (Jan. 31, 2011) — The Space Foundation's 27th National Space Symposium will be held April 11-14 at The Broadmoor Hotel in Colorado Springs, Colo., and will feature forums, presentations, speeches, special events and ample opportunity to hear from and network with the space community's most influential leaders.
Some of those leaders will comprise the panel "Industrial Base Mega Session."
Moderated by Space Foundation chairman, William F. Ballhaus, Jr., Ph.D., the panel includes:
Marion C. Blakey, president and chief executive officer, Aerospace Industries Association
David M. DiCarlo, Ph.D., sector vice president and general manager, Space Systems Division, Northrop Grumman Aerospace Systems
Brett Lambert, deputy assistant Secretary of Defense for Industrial Policy Department of Defense
Joanne M. Maguire, executive vice president, Lockheed Martin Space Systems Company
James Maser, president, Pratt & Whitney Rocketdyne
Richard W. McKinney, Deputy Under Secretary of the Air Force for Space Programs, United States Air Force
This discussion is in addition to two previously announced Symposium panels. "The Government Buys Commercial" will be moderated by Paul L. Graziani, chief executive officer and founder of Analytical Graphics Inc., (AGI), and includes panel members:
Charles S. Baker, acting director, Office of Space Commercialization, U.S. Dept. of Commerce and deputy assistant administrator for Satellite and Information Services, NOAA
Lt. Gen. Michael A. Hamel, USAF (Retired), senior vice president of corporate strategy and development, Orbital Sciences Corporation
Maj. Gen. John E. Hyten, USAF, director, Space Programs Office of the Assistant Secretary of the Air Force for Acquisition
Another Symposium panel will be, "CEOs on the Issues" moderated by Euroconsult CEO and managing director Pacôme Révillon, and including:
Matthew J. Desch, chief executive officer, Iridium Communications, Inc. 
Jean-Yves Le Gall, chairman and chief executive officer, Arianespace, Inc.
David McGlade, chief executive officer, Intelsat
Andrew Sukawaty, chairman and chief executive officer, Inmarsat
Register for the 27th National Space Symposium
Take advantage of Early Bird rates by registering for the 27th National Space Symposium before March 18 at www.nationalspacesymposium.org/register.
27th National Space Symposium Co-Sponsors
Confirmed co-sponsors of the 27th National Space Symposium include a.i. solutions; Analytical Graphics, Inc. (AGI); ARES Corporation; ATK; Ball Aerospace & Technologies Corp.; The Boeing Company; Booz Allen Hamilton; Cisco Systems, Inc.; Euroconsult; Fisher Space Pen Co.; GMV; General Dynamics; IBM; ILA Berlin Air Show; Integral Systems; Intelsat General Corporation; International Academy of Astronautics (IAA); International Space University (ISU); Lockheed Martin; Moog; Northrop Grumman; Paradigm; Pratt & Whitney Rocketdyne; QinetiQ; Raytheon; SAIC; SES World Skies; Space Generation Advisory Council (SGAC) ; SpaceSystems/Loral; SpaceX; Stellar Solutions; Swedish Space Corporation (SSC); United Launch Alliance; and United Space Alliance. Space News International and Aviation Week are official media partners. Additional sponsorship opportunities are available; interested companies should contact [email protected].
About the Space Foundation
The Space Foundation is a global, nonprofit organization and the foremost advocate for all sectors of the space industry – civil, commercial, military and intelligence. Founded in 1983, the Space Foundation is a leader in space awareness activities, educational programs that bring space into the classroom, and major industry events, including the National Space Symposium, all in support of its mission "to advance space-related endeavors to inspire, enable and propel humanity." An expert in all aspects of the global space industry, the Space Foundation publishes The Space Report: The Authoritative Guide to Global Space Activity and provides three indices that track daily performance of the space industry. Through its Space Certification and Space Technology Hall of Fame® programs, the Space Foundation recognizes space-based technologies and innovations that have been adapted to improve life on Earth. Headquartered in Colorado Springs, the Space Foundation conducts research and analysis and government affairs activities from its Washington, D.C., office and has field representatives in Houston, Texas, and Cape Canaveral, Fla. For more information, visit www.SpaceFoundation.org. Follow us on Twitter, Facebook and LinkedIn, and read about the latest space news and Space Foundation activities in Space Watch.
# # #
---
Posted in Space Foundation Press Releases